Castor Oil Plant Seeds
Castor oil plant can reach a height of 1-2 metres. Gives a tropical feel to any garden. The glossy leaves are 15–45 cm long, long-stalked, alternate and palmate with 5–12 deep lobes with coarsely- toothed segments. Colour varies from dark green, sometimes with a reddish tinge, to dark reddish purple or bronze.
Castor Oil Plant Seeds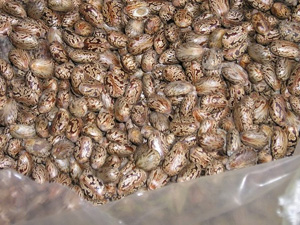 The caster oil plant seeds contain 45-55% fixed oil, which consists mainly of glycerides of ricinoleic acid, ricin (a highly toxic protein), ricinine (an alkaloid), and lectins. The seeds are highly poisonous -2 are sufficient to kill an adult -but the toxins do not pass into the expressed oil.
The one negative of the castor oil plant is the toxicity of the seeds. The seeds are said to be fatal if eaten and as such it is recommended that this plant is grown out of reach of children. If you are a nervous parent then perhaps this plant should be avoided altogether. However.... The seeds are generally held quite high on the plant, certainly out of reach of any very small children. The plants are also strong and unlikely to fall over in windy conditions were the seeds could be presented. Actually removing the seeds from their pods is also quite difficult. Once they are ripe though, the seeds pods explode sending the seeds every where. Again we have an 'however', the seeds do not reach this stage during the summer growing season (of a British summer).
When stored in the greenhouse over winter, the seed pods of the castor oil plant begin to explode early in the new year. At first you may be under the impression that those pesky boys from next door are throwing gravel over the garden wall, trying to annoy you. Then you remember there are no charming pranksters next door as a Ricinus communis seed lands squarely between the eyes. It is at this stage, when the greenhouse floor is awash with seeds, that they are there most dangerous to foraging children. Again if you have children that naturally put anything they come across into their mouths, you probably should avoid this plant. Educate your children about this plant. The decision whether or not to grow the castor oil plant is ultimately yours.
Henan Kingman M&E Complete Plant Co., Ltd ©