Vibrating Separator
The vibrating separator works by means of the meridional slinging of vibrating screens. It may be utilized for previously cleaned feedstock as well as for cleaning cereals and oilseeds. It is also suitable for pre-cleaning and cleaning in the foodstuffs, feed and chemical industries.
Features of the Oilseed Vibrating Separator
The vibrating separator is a key piece of equipment in the oil milling plant. It can be equipped with different sieves per processing requests and the features of the oilseeds. The oilseed vibrating separator consists of a feeding device, sieves, frame, drive system, discharge valve and vertical aspiration channel (selectable). Oilseeds are transported by a feeding device for even distribution on the sieve. The oilseeds pass through the first sieve and enter into the next, filtering out impurities in the process which are discharged from the upper output channel. Impurities smaller than oilseeds pass through the second sieve and are discharged at the lower output channel. Oilseeds processed by the second sieve are discharged at the rear of sieve before finally entering the vertical aspiration channel for further processing.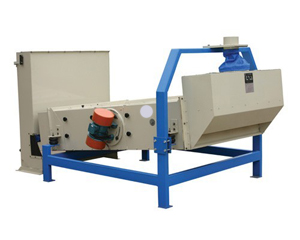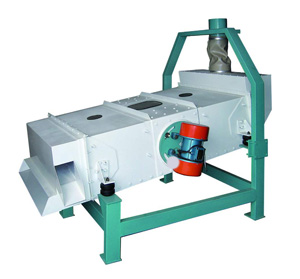 Vibrating Separator Technical Data
Type
TQLE100×100
TQLE100×150
TQLE150×150
TQLE150×200
Sieve Size W×L(cm)
100×100
100×150
150×150
150×200
Capacity (t/d)
Pre-cleaning
30
50
75
100
Cleaning
8
12
18
24
Sieve Inclination
Pre-cleaning
6
9
9
12
Cleaning
6
Vibration Inclination
Pre-cleaning
25
Cleaning
20
Vibration Amplitude(mm)
5~5.5
Matched Power (kw)
2×0.25
2×0.37
2×0.7
2×0.7
Motor Rotation (r/min)
920
Weight (kg)
420
520
630
650
Matched Aspiration Pressure(mmH2O)
50
Matched air Volume(m3/min)
52
80
110
135
Overall Dimensions L×W×H (mm)
1640×1610×1455
2140×1610×1455
2140×2160×1455
2640×2160×1455
With over ten years' experience in manufacturing, supplying and exporting complete oil mill plant and related oil mill equipment, we are your trusted oil mill machinery manufacturer in China. We supply quality oilseed vibrating separator. We are always at your service.
Henan Kingman M&E Complete Plant Co., Ltd ©