canola oil press
The YZS-80 canola oil press is an advanced oil expeller machine which is characterized by its simple design, easy, wide suitability and continuous operation, and high productivity and high oil output ratio. Besides, this oil press can be used for various raw materials, such as canola, ground nuts, soybeans, cotton seed, sesame seed, sunflower seed, coconuts/copra, tea seed, jatropha etc.
This model of canola oil press machine is quite suitable for medium-small sized oil pressing workshops or professional farmers. Certainly, they can be used for prepressing in submerging oil workshops, too.
Spesifications of YZS-80 Canola Oil Press
* Capacity: 2-3T per 24Hours
* Power: 3-Phase 5.5kW &8HP-12HP
* Size: 1320 x 540 x 1020mm
* Weight: 330kg
Raw Material

Raw Material In-feed per 24 hours (kg)
Oil Output Per 100kg of Raw Material (kg)
Dry Cake Residue(%)

Canola Seeds

Hot Pressing

1900-2400

30-35

7.5-8

Ground Nuts

Hot Pressing

1900-2400

35-45

7

Bean

Hot Pressing

1800-2300

10-14

6.5-7

Sesame Seed

Hot Pressing

1900-2400

44-47

6.5-7.5

Cotton Seeds

Cold Pressing

900-1200

10-14

5.5-6.
At the same time, the canola oil press can be designed into A series and C series as below.
Canola Oil Press With Electric Heater and Control Cabinet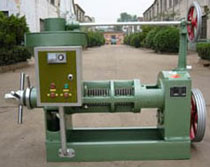 This kind of oil screw press includes the electrical heater and control cabinet. The control cabinet can be used for both motor and heater. The heater, however is to heat the machine before pressing the oil bearing materials. Besides, the heater is also helpful for increasing oil output. Especially for lower oil-bearing oilseeds, such as cotton seeds,sunflower seed,soybean. Usually, when press the oilseeds, the oil screw press needs be grinded first using raw material, in order to make the pressing temperature of chamber reach 80-120 degree. Then there is oil come out. If there is no heater, it takes about 30 minutes to make the temperature reach the appointed temperature. But this kind of oil expeller press only needs five minutes.
Canola Oil Press With Diesel Engine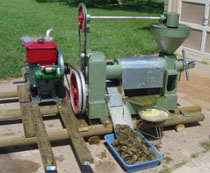 The YZS-80 screw oil press with diesel engine is also very popular in a lot of areas. We are glad to match it if you need.
The picture is also taken by our client. The product oil can be edible or also for making biodiesel as fuel. The byproduct oil cake/meal can be made for pellet as animal feedstuff, such as pig, chicken, cattle etc.
Anytime you are interested in any of our oil press machine, canola oil press, please fell free to contact us in the following form. We are always ready to serve you!
Henan Kingman M&E Complete Plant Co., Ltd ©