Pressing Section for Oil Mill Plant
Oil Pressing
KMEC provides a range of machinery to extract the oil from the oil material by pressing. Typical oil extraction by pressing is usually of the following four types:
Oil Milling Plants Workshop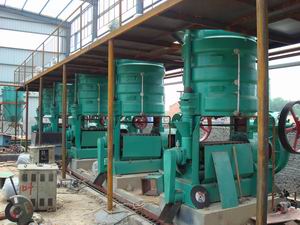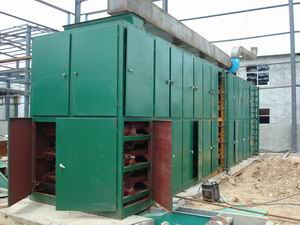 Single Pressing - Oil Milling Plant
Single pressing can also be called full pressing and is usually applied at small capacity oil milling plants. For this process there is a single pressing machine. These mills work on the principle of mechanical extraction to separate oil from seeds. For seeds with high oil content, double pressing should be incorporated for maximum yield.
With KMEC's single presses the oil residual in cake is around 5-7%. The use of a single pressing machine doesn't require chemical treatment for oil extraction. The major advantage in using a single pressing machine is that it greatly increases the oil yield. The resulting oil's quality is high, as it is pure and healthy from not being chemically treated. Single pressing machines are used to extract oil from nearly all kinds of oilseeds and nuts to include sunflower seeds, cotton seeds, mustard seeds, copra, peanuts, linseeds, flax seeds and soybeans.
Pre-pressing - Oil Milling Plant
For larger capacities, the oil mill is used for pre-pressing where the initial oil is extracted mechanically. Then pre-pressed cake is sent to the solvent extraction plant. Pre-pressing is a traditional method to process high oil-content oilseeds. The advantages of KMEC pre-pressing technology are as follows:

Versatile in processing many oilseeds, such as rapeseed, cottonseed, sunflower seed and safflower seed, peanuts and sesame seeds.
According to customers' request, the complete explosion-puffing process is available which saves energy and obtains high quality oil.
Multi-stage filtration to the pre-pressed oil.
Less stringent requirements as to oilseed quality.
Hot Pressing - Oil Milling Plant
Hot pressing refers to the art of applying heat in conjunction with mechanical pressure. Here in the oil milling plant, hot pressing means cooking the oil seeds with a hot pressing machine before pressing in order to extract more oil.
All main parts of hot pressing machine such as the worm shaft, pressing worms, cage bars and gears are made of high-grade alloy steel that have undergone hardening treatment. As a result, in spite of the constant conditions of high temperature and abrasion, durability prolongs their usable life for a considerable period of time.
The combination of steaming and roasting is also one of the features of this type of hot pressing machine. It can be regulated in accordance with the requirements of various oil-bearing materials, including pre-pressing temperatures to get high quality oils.
The whole process—from feeding, steaming, and roasting up to the discharge of oil and cake—goes on automatically and continuously. This makes it easy to operate the hot pressing machine, which results in the saving of labor.
Cold Pressing - Oil Milling Plant
Cold pressing or cold milling generally refers to the process of mechanically separating oil while pressing or crushing oil seeds using only the application of pressure, without the addition of heat or chemicals. By using a cold pressing machine the natural structure of the oil is maintained along with all of its natural characteristics.
Cold pressing does not actually mean pressing the seeds without any heat, as oil extraction cannot be done without the use of heat. Heat extracts oil from the seeds faster. In fact, it is hard to find oils that are pressed without heat.
Related Equipment
Henan Kingman M&E Complete Plant Co., Ltd ©