oil press
We are a reputable manufacturer and supplier of the oil press in China. All of our oil presses are advanced oil processing machinery. We guarantee the quality of our oil presses and we also offer the most competitive price in the field.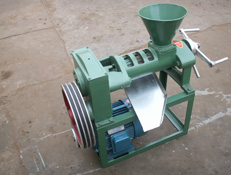 Our oil presses are widely used for processing various oil bearing materials like rapeseeds, cotton seeds, soybeans, peanuts, sesame seeds, sunflower seeds, tung seeds as well as for rice bran, corn embryos, powered oil materials, safflower and other wild plant oil materials.
Oil Presses
Below are the models of oil presses we offer, you can click on the ones you are interested in for further details.
or you can CLICK HERE to view a professional website about oil press machine.
Related Equipment
Henan Kingman M&E Complete Plant Co., Ltd ©