Oilseed Drum Softening Machine
Oilseed drum softening machine is used for softening and drying process to soybean, rapeseed, or other oil material in pretreatment section of the solvent extraction plant. It reduces the moisture of the raw material and improves the plasticity, making the flakes rolled by the flaking roller compact and thin, but not easy to break, thus improving the effects during cooking, oil pressing and extraction. The output of a single machine is 50~1500 t/d.
The aim of the oilseed softening process is to adjust the moisture and temperature of the oilseed, making it soft and malleable. Some oil seeds which are harder and contain less moisture will be processed into powder by an oilseed flaking machine. Because it is harmful for extruding and extraction, oilseeds are softened via a conditioner before being forwarded to the flaking process. Oilseed, after softening, should have the elasticity and plasticity suitable to meet the requirements of flaking. The fact is that there are different types of oilseeds. Therefore, we prepare different oilseed softening processes depending on the oilseed and moisture content in question.
Oilseed Drum Softening Machine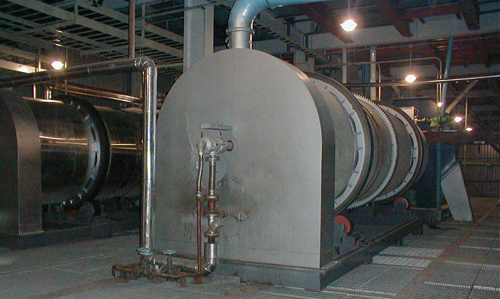 Features of the Drum Softening Machine
Greatly reduces energy consumption. Its required power is just one tenth of the vertical-type softening cooker.
The rotation of the roller makes the stirring of the oil material more uniform and processes it without dead space, thus avoiding over-cooked oil material.
The structure of the gear drive and squirrel-cage heating avoids wear of the scraper and hot chassis, ensuring a long service life, low failure rate and low maintenance costs.
The processing time for softening can be adjusted at any time according to the properties of the oil material.
The sophisticated design makes arrangement of the equipment easier to avoid blocking and leaking of the oil material. With a unique structural design, it can soften the high moisture-content material while removing the moisture.
Contact us today to get further info about this drum softening machine! If you are interested in other oil processing machinery, you can also email us, we are always ready to serve you!
Henan Kingman M&E Complete Plant Co., Ltd ©