sunflower seed oil press
The YZS-95 sunflower seed oil press can be used to press different types of oil seed besides sunflower seed. For example, this oil press can process oil bearing materials like peanuts, soybeans, rape seeds, cotton seeds, sesame seeds, coconuts/copra, tea seeds, jatropha etc. Our sunflower oil press has compact structure, easy operation and high productivity and oil output rate.
Specifications of the YZS-95 Sunflower Seed Oil Press
* Capacity: 2-3T per 24Hours
* Power: 3-Phase 7.5 kW 12HP-1440rpm
* Size: 1910 x 610 x 765mm
* Weight: 620kg
Structure and Features of YZS-95 Sunflower Seed Oil Press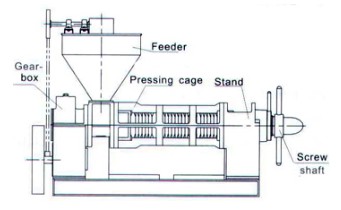 This model of sunflower seed oil press is composed of feeder, gearbox, pressing cage, screw shaft and edible oil extraction machine stand etc. It has better results to press olive,soybean and cotton seeds. This kind of oil screw press utilizes the screw shaft that is set-up with different styles of screws and rotates when machine is running to push the material into chamber. Then the oil is separated out through the extrusion of pressing worm and pressing ring.
YZS-95 Sunflower Seed Oil Press With Electric Heater
* Capacity: 3-4T/24hrs
* Power of motor: 7.5 kw-1440rpm
* Power of heater: 1.5kw
* Control Cabinet: 380V, 50HZ, 3Phase
The series screw type sunflower seed oil press with electric heater heated by electricity have function of heating and pressing. Before pressing, some parts of the presses such as the press container, press screw and press ring will be heated.

We can offer different models of oil press machine with different capacities for various seeds and nuts. We can also supply sunflower seed oil press with electric heater. Welcome to email us for further info of our products!
Henan Kingman M&E Complete Plant Co., Ltd ©