Oil Screw Press
KMEC is the leading manufacturer of oil screw press and other oil milling equipment, we can supply various oil processing equipment for different steps in the production of edible oils or biofuel uses. We can cater for your needs of ranging from complete turn-key oil milling plants to individual equipments (such as seed processing machinery, oil milling machinery for physical or chemical extraction, oil refining, such as oil screw press, filter press, cooker, refining tank and cleaner, sheller for raw material etc.
The YZS Series Oil Screw Press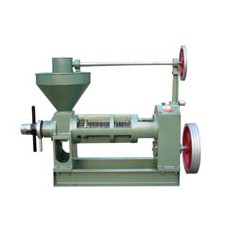 The YZS series oil screw presses are suitable for pressing oil from rape seeds, soybean, peanut, cottonseeds, sunflower seeds, ground-nuts,grass seeds, tung oil seeds, jatropha seeds and other oil seeds materails from vegetable oil crops.
The YZS series oil screw presses are in accordance with the standard JB/T9793.1-1999 in China. Their quality are authorized by CE certificate and ISO9000. The durable performance and reasonable design of our press expeller also accepted by all of our customers all the world. We have much long term cooperaiton with our clients for many years.
Main Technical Data Of YZS Series Oil Screw Press
| | | | | |
| --- | --- | --- | --- | --- |
| Model | Capacity | Power | Net Weight | Outside dimension |
| 6YL-68 | 50kgh | 5.5kw | 140kg | 920*490*780mm |
| 6YL-80 | 100kgh | 5.5kw | 330kg | 1320*540*1020mm |
| 6YL-95 | 150-200kgh | 7.5-11kw | 620 kg | 1620*630*1260mm |
| 6YL-100 | 200kgh | 7.5kw | 80 kg | 41640*640*1200mm |
| 6YL-120 | 250kgh | 11kw | 650 kg | 1820*630*1300mm |
Oil Screw Press History
Oil extraction started from five thousands years ago. The original oil screw press including several types such as lever press, wedge press, manpower press etc. In the year of 1795, water press was created. And since then, people started to extract oils by hydraulic oil press. In1895, the first oil press by water press was established in Yingkou in China. 1900, the countinuous oil screw presses which called oil expeller was invented and became the main equipment of oil extration.
The screw oil press we developed features reasonable matured design, easy operation and maintain. The stable working of our oil screw presses are welcomed by farmers, workshops and medieum-small oil factories for many years. Both technology and quality excelled the national standard. Our oil screw press obtained six patents approved by state.
The application of our oil screw press is very wide. At the mean time, our oil screw presses are very popular used for processing nearly all types of oilseeds such as rape seeds, peanuts, soybean (Soya), sesame seeds, cotton seeds, sunflower seeds, Jatropha curcas seeds, oil-tea camellia seed etc.
In recent years, our company started to export oil screw press to Euro countries, Middles East, American countries, Australian, African countries, Southeast Asia etc. Most of clients use our oil screw press for several years. We have many long term cooperators all over the world. If you are interested in our oil screw presses, please contact us for more information. We are always at your service.
Henan Kingman M&E Complete Plant Co., Ltd ©