Coconut Oil Plant
Withe the groeing demand of coconut oils in the world, building coconut oil plant also becomes very popular. The coconut oil plant was formulated and appraised as a major undertaking under the Third Development Plan (1975-1979). It is part of the effort to develop the potential for processing indigenous raw materials to augment foreign exchange earnings and contribute to the national economy.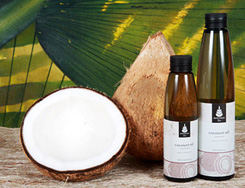 Coconut palms is the source material of coconut oil plant which are grown widely in the coastal tracts of the country. Copra, the dried kernel is the chief commercial product from coconut, which is mainly used for oil extraction. Copra normally has an oil content varying from 65 to 72 per cent. For the extraction of oil from copra the common method still prevailing in our country is by using rotary chucks. But the efficient system of extraction of oil is by the use of expellers.
Objectives of Coconut Oil Plant
Processing of indigenous coconut / copra into coconut oil and meal for export.
Contributing to the national economy through value added by milling of copra into oil and generating.
Foreign exchange earnings.
Establishing new industrial activity and creating employment and linkages with other activities.
With over 10 years' experience of manufacturing,designing and exporting complete oil mill plant all over the word, we have obtained first hand experience of building a quality oil plants for various oilseeds, especially for coconut oil plant.
KMEC is the leading company in oil processing filed. KMEC is your trustable coconut oil plant exporter in China. Our clients are very satisfied with our coconut oil plant we designed and installed, at the same time, they also expect the next cooperation. We design complete coconut oil plant, we offer quality oil processing machines. If you prefer to know more info about our coconut oil plant, please don't hesitate to let us know and we will respond to you question as soon as we get your email.
Henan Kingman M&E Complete Plant Co., Ltd ©