Corn Oil Processing Machine
Corn Oil Processing Machine
Our corn oil processing machine can extracting vegetable oil from different raw oil materials, such as ground nuts, soybean, rape seed, cotton seeds, sesame,olive, sunflower, coconuts,and cocoa and the like.
Corn Oil Processing Machine - YZL-80A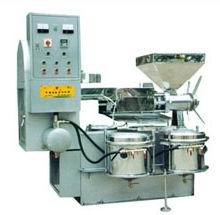 The YZL-80A corn oil processing machine is an automatic combined oil press with multi-use. It is the new product developed by us according to the need of varoius vegetable oil processing. The corn oil processing machine is developed based on the merit of original YZL series expeller press which combined with filtering barrels and heating circles for expeller housing. It also has automatic function of hot press and cold press.
The electrical heater can make the temperature of corn oil processing machine housing increase automatically. The vaccum filter system is composed by two vaccum filter barrels. They can squeeze the unrefined oil, which promote the efficiency of the original oil presses. Meanwhile, it has the advantage of compact structure, small area occupied, reasonable design and low labor consumption. The designed machine is easy for clients to use and maintainance which show its human nature. The oil output is high and the oil quality is excellent.
Our corn oil processing machine is suitable for medium-small sized oil processing workshops or professional farmers. Anytime you feel interested with our machinery, don't hesitate to contact us!
Henan Kingman M&E Complete Plant Co., Ltd ©