Corn Oil Processing Machinery
The entire corn oil processing starts with corn germ, which is the embryo of a corn oil plant, distinct from the starchy nutrients in the endosperm, usually the corn oil processing machinery is necessary. We are one of the worlds' leading corn oil processing machinery manufacturer and exporter since 1990.
The oil content of the germ is about 85 percent of the total oil in the corn. First of all, corn kernels are dehulled and then crushed with a grooved roller to break down the cell walls. The resultant cake is then "wet milled", steeped in water acidified with sulphur dioxide to separate the components of the seed.
Corn Oil Processing Machinery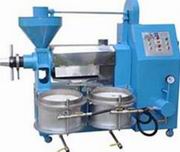 The YZS series corn oil processing machinery features high oil output rate and good oil quality. The auto-heating system can improve oil output greatly. This kind of corn oil processing machinery is speically for farm use or small oil milling workshop. This type of corn oil processing machinery is developed based on the merit of original YZL series oil processing machinery which combined with filtering barrels and heating circles for expeller housing. It also has automatic function of hot press and cold press.
Technical Specification:
Model

Capacity (KG/H)

Power (KW)

Net Weight (KG)

Packing (MM)

YZS-80A

80-125

5.5

450

1860*670*1680
1060*590*600

YZS-100A

160-200

7.5

550

2270*750*1820
1220*590*600

YZS-120A

250

11

1000

2350*810*1870
1350*700*570

YZS-130A

330-420

15

1500

2500*800*1850
1500*700*570
Whenever you get interested in our corn oil processing machinery or other seed processing equipment even complete oil procesing plant, please contact us, we are always ready t o serve and guide you!
Henan Kingman M&E Complete Plant Co., Ltd ©