Crude Palm Oil Plant
Nowadays, crude palm oil plant is becoming more and more popular, more and more people across the world want to start their business with establish a crude palm oil palnt.
Crude Palm Oil Plant
Extraction of oil from the palm kernels is generally separate from palm oil extraction, and will often be carried out in crude palm oil plant that process other oilseeds (such as groundnuts, rapeseed, cottonseed, shea nuts or copra). The stages in this process comprise grinding the kernels into small particles, heating (cooking), and extracting the oil using an oilseed expeller or petroleum-derived solvent. The crude palm oil then requires clarification in a filter press or by sedimentation. Extraction is a well-established industry, with large numbers of international manufacturers able to offer equipment that can process from 10 kg to several tonnes per hour.
Conversion of crude palm oil to refined oil in the entire crude palm oil plant involves removal of the products of hydrolysis and oxidation, colour and flavour. After refining, the oil may be separated (fractionated) into liquid and solid phases by thermo-mechanical means (controlled cooling, crystallization, and filtering), and the liquid fraction (olein) is used extensively as a liquid cooking oil in tropical climates, competing successfully with the more expensive groundnut, corn, and sunflower oils.
Crude Palm Oil Plant Workshop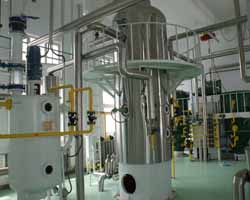 Crude Palm Oil Knowledge
Palm oil is obtained from the flesh of the palm fruit. Each palm tree produces approximately one fruit bunch, containing as many as 3000 fruitlets per month. In addition, each palm tree continues producing fruit economically for up to 25 years. This ensures a constant stable supply, as compared with other annual crops.
Crude palm oil is very rich with its own vitamin and mineral which is characterized as stabilized oil due to its chemical composition. As such, it can be used in most food applications without hydrogenation, thus, reducing production cost by as much as 30%. Compared to other edible oils,crude palm oil also is priced competitively and can represent a saving of upto several cents per pound. The oil is widely used as a cooking oil, as an ingredient in margarine, and is a component of many processed foods. It is also an important component of many soaps, washing powders and personal care products, is used to treat wounds, and also controversially as a feedstock for biofuel. So build a crude palm oil plant is your smart choice.
With rich experience of manufacturing and exporting complete crude palm oil plant , we are your trustable crude palm oil plant manufacturer in China. Our clients are very satisfied with our crude palm oil plant and relating machinery, they also expect next cooperation.
KMEC is the leading company in crude palm oil processing filed. We design complete oil processing plant, we offer quality crude palm oil processing machines. If you prefer to know more info about our crude palm oil plant or other relating oil processing machinery, please don't hesitate to let us know and we will respond you as soon as we get your email. Our responsible experienced technical team is always ready to serve & guide you at any time.
Henan Kingman M&E Complete Plant Co., Ltd ©