Edible Oil Extraction Plant
Nowadays edible oil extraction plant becomes more and more popular all over the world, for the reason that poeple in a lot of countries need to build this kind of plant to make more edible oils for daily use.
The China edible oil economy is the world's second largest after the US, harvesting about 25 million tons of oilseeds against the world. Edible oil consumption has increased following a rise in household incomes and consumer demand.
Edible Oil Extraction Plant
Edible oil extraction plant is required for the level 2 extraction after the pressing process is done with expeller, there are entrepreneurs who are content with the oil content but the real business lies in the level 2 extraction where the remaining left over oil is extracted and the method becomes slightly complex and advanced.
You need the expertise of Servotech India Limited who have been setting up from nil to complete working plant that would yield the results and Return on Investment as you get the infrastructure erected from us in a completely working state. The Solvent Extraction plant that are erected by us will soon turn you business products to Cash Cows as we have zero tolerance on quality lapse. Thanks to our predefined process for extraction level 2 and also customization as per the needs of the client.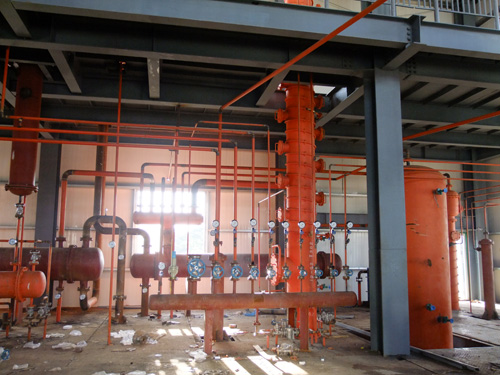 Edible Oil Extraction Plant Method
1. Separation of Impurities:
In two levels-sedimentation tanks and hydrocyclones.
2. Destilation of Solvent:
In three levels-falling film evaporator, rising film evaporator, stripping column (all CS). All units are evacuated by water sealed vacuum pump.
3. Condensation of Solvent Vapor and Water:
In heat exchangers and two colums (Raschig rings) sprayed by mineral oil for solvent vapour absorption.
4. Water-solvent Separation:
Separation by differnt densities in tank.
We are expert of edible oil extraction plant. We have rich experience of manufacturing and exporting complete edible oil extraction plant for different using purposes and our clients are very satisfied with our plants as well as machinery. We give the best service and we offer the most competitive prices . If you prefer to know more info, please don't hesitate to contact us, we are always at your service!
Henan Kingman M&E Complete Plant Co., Ltd ©