Edible Oil Refinery
KMEC has been in the edible oil refinery field since 1990,commencing being a little industrial firm, KMEC providing personalized alternatives for a lot of pieces of edible oil refinery. By our unique and individualized approach offered cost-effective enhancements to assist the customers meet up with good quality specifications or maybe economy alteration along with substantial savings within time and cash. We certainly have istalled oil refining plant intended for edible oil refining purpose. Our edible oil refinery plant can process various vegetable oils like cottonseed, rapeseed(mustard), sunflower, coconut, corn, palm kernel, palm, castor seed.
Edible Oil Refinery
The whole process of edible oil refinery generally contains Degumming, Neutralization, Bleaching and Deodorization and Winterisation. Chemical refining may be the traditional method in edible oil refinin, whereby the free fatty acid from the crude oils are neutralized with Caustic Soda. The resultant Sodium Soaps are removed by Batch Settling or by using Centrifugal Separators. The neutral oils are subsequently bleached and deodorized. This process can be used as reliably edible oil refinery nearly all crude oils, including oils of inferior quality, except for Castor Oil.
In any alternative technique of edible oil refinery of Physical refining, the free fatty acids are removed by distillation a single stage of deodorizing. An elementary criterion for working with this technique could be that the crude oils need to be degummed as effectively as it can be, nevertheless this is solely probable to a limited extent with some crude oil qualities.
Edible Oil Refinery Workshop View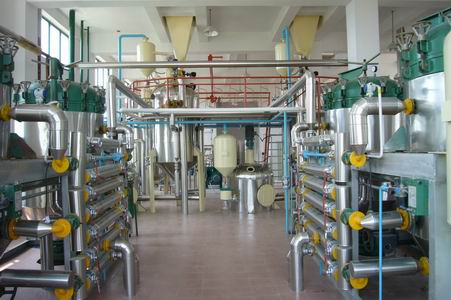 KMEC is the expert of edible oil refinery. We've got abundant experience with manufacturing and exporting large number of various edible oil refinery machines for various utilizing applications and also all of our customers are really pleased with our edible oil refinery service. We are your trustable edible oil refinery plant manufacturers in China. We provide the greatest service and we offer probably the most huge discounts for edible oil refinery filed. In the event you like to find out details, please do not think twice to make contact with us, we're constantly for your service!
Henan Kingman M&E Complete Plant Co., Ltd ©