Edible Oil Refining Equipment
We are edible oil refining equipment manufacturer and supplier. As a leading company in China, we speacialized in manufacturing and exporting various edible oil refining equipment across the world. We use the leading-edge edible oil refining technology to guarantee the quality of our equipment.
Edible Oil Refining Equipment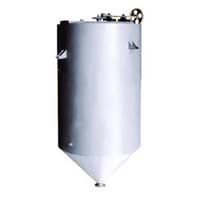 Oil Neutralizer
There are quite a lot of edible oil refining equipment in the entire process of edible oil refining. The main equipment including: refinery vessel,decoloring vessel,deodorizing vessel,decoloring tower,deodorizing tower,centrifugal separator,conducting oil stove,steam jet pump,centrifugal pump,measurable pump,oil pump,water pump,water tower, boiler, electrical control cabinet and the like.
Edible oil refining is to refine the crude oil,get rid of unnecessary and deleterious impurity,and then get some high qulity of product oil.The refining process includes:degumming, alkali refine,decolor, deodorization,dewaxing and so on.
Edible oil refining Process
Rude oil - Neutralizing - Decolorizing - Deodorizing - Cooling - Refined Edible oil
Oil filter Clear the oil decolorized.
Neutralizer is used to rid off acid, degumming.
Decolorizer is used to rid off the color of the oil.
Deodorizer is used to rid off odor of the oil.
Air pressurer Blow to dry the Clay for decoloring.
Steam producer Producing steams of high temperater for deodorizer.
Transfer oil furence is used supplying for the heats required to the line, it could make the temperature up to 280 degrees.
We are committed to supply premium quality edible oil refining equipment as well as complete oil refining plant. We provide good after sale services to all our esteemed clients. Whenever you are interested in any of our edible oil refining equipment,write to us in the following form. Our responsible experienced technical team is always ready to serve & guide you any time you need.
Henan Kingman M&E Complete Plant Co., Ltd ©