Jatropha Oil Extraction Process
With years experience of dealing in jatropha oil extraction, we are now one one the leading manufacturer and supplier of jatropha oil extraction machinery and complete extraction plant. We also provide advanced jatropha oil extraction process to our clients.
Jatropha Oil Extraction Process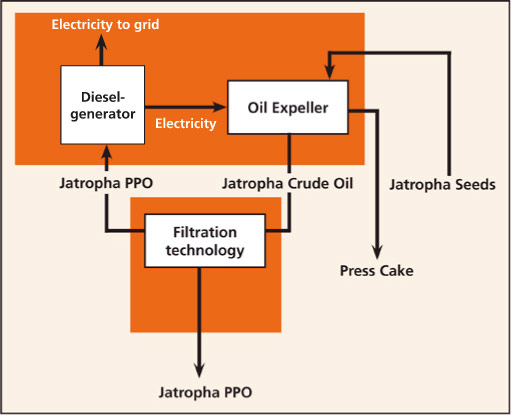 The jatropha oil extraction process at high pressure is called as hot oil extraction method. Since jatropha oil can regulate the operating temperature it is extracted using the hot oil extraction way.
However, the cold oil extraction method it is easy to extract the oil from the hot oil extraction since the oil flows more easily due to higher viscosity. And the press cake that remains after extracting the oil also have less oil content which might be 3 to 7 % approximately. These two reasons make the oil press method very interesting.
During the jatropha oil extraction process many stuffing of the seeds are converted into gum like substances and some non organic substances. These are unwanted products and so they have to be refined.
Our clients are very satisfied with jatropha oil extraction process we provided and they also expect next cooperation with us. We believe that after going throughour website, if you contact us, you will definitely become our valued customer. We are always ready to servi you! Write to us now for more information!
Henan Kingman M&E Complete Plant Co., Ltd ©