Oilseed Processing Plants
Oilseed processing is usually defined as the techniques taht used to be get clean, high quality seeds. Oilseed processing plants, however, is designed to process various oilseeds. There are two schools of thought in the establishment of a work sequence for seed processing. They are batch processing and continuous flow processing.
Oilseed Processing Plants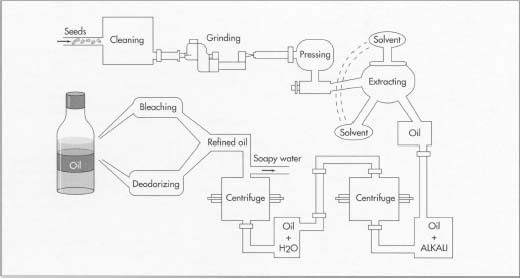 Oilseed processing plants are one of the most popular oil processing plants on today's market.
Processing of seeds is done based on the one or more differing physical characters of seed (i.e.) seed size, length, weight, shape, surface texture, color, affinity to liquid and electrical conductivity. In the process of the entire oilseed processing plants, there are a lot of steps that you should follow, such as scalping, debearding, hulling, shelling to make the seed flow readily through the grader and cleaner (conditioning and pre-cleaning). Then you should remove of inert material, weed seeds, other crop and broken seeds that are larger or smaller than the crop seed. In the final (separating and upgrading) phase, undesirable materials are separated from the seed.
Oilseed processing plants are spesially designed to produce quality seed oil, the oilseeds are cracked, adjusted for moisture content, heated to between 140°F and 190°F, rolled into flakes, and solvent-extracted with hexane. The oil is then refined, blended for different applications, and sometimes hydrogenated. Soybean oils, both liquid and partially hydrogenated, are exported abroad, sold as "vegetable oil," or end up in a wide variety of processed foods. Most of the remaining residue is used as animal feed.
We are committed to provide good after sales services to all our clients. Our ideology says that the real duty as a supplier starts after installation of oilseed processing plants and oilseed processing machinery.
We believe that whatever the field is, quality has always been at the heart of company's performance. Our responsible experienced technical team is always ready to serve & guide you at any hour of need. If you are interested in our oilseed processing plants,contact us now for more information!
Henan Kingman M&E Complete Plant Co., Ltd ©