Seed Oil Extraction
KMEC is the expert of seed oil extraction. We continually investigating new ways to improve yields from oilseed crops and we are always attempting to optimize the composition of the lipids extracted. We are your trustable seed oil extraction manufacturer and supplier directly fron China.
Seed Oil Extraction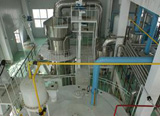 The seed oil extraction could be achieved either by pressing (for seeds and nuts) or boiling (for fruit), by solvent extraction, or by a combination of the two. The oil is skimmed after boiling and filtered after pressing. Hexane is typically used for this purpose. The recovered solvent/oil mixture is called miscella and the extracted flakes spent flake or cake.
Solvent extraction is a common method for removal of seed oil extraction, with traditional solvent extraction methods requiring large volumes of solvent (typically several hundred milliliters) and long extraction times (8-16 h). Solvent extraction generally consists of a sequence of four operations:
Physical removal of oil from the feedstock (seed, husk, etc.) in the extractor.
Desolventising-toasting of the de-oiled meal, often combined with heating and cooling of the meal.
Distillation, to remove the solvent of the extracted oil
Recovery of the solvent for re-use in the reactor.
If you feel interest in our company as well as seed oil extraction or other oil extraction machinery, please write to us, we are always at your services!
Henan Kingman M&E Complete Plant Co., Ltd ©