Soya Oil Mill
Soya Oil Mill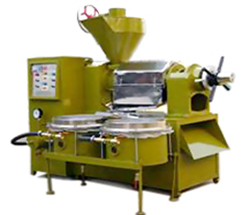 Soya oil is a kind of vegetable oil that extracted from soya beans. However, from soya beans to edible soya oils, you will need some equipment to help you, aming these equipment, soya oil mill is the most important equipment in the oil processing process.
Soya oil is one of the most widely consumed cooking oils. Being one of the drying oils, it is also used as a base for printing inks and oil paints. As time tempos, more and more people interest in starting a soybean oil plant to process soybean oil for different using purposes.
YZS Series Soya Oil Mill
Main Technical Parameters
MODEL

CAPACITY(KG/H)

POWER(KW)

NET WEIGHT(KG)

PACKING(MM)

YZS-80A

80-125

5.5

450

1860*670*1680
1060*590*600

YZS-100A

160-200

7.5

550

2270*750*1820
1220*590*600

YZS-120A

250

11

1000

2350*810*1870
1350*700*570

YZS-130A

330-420

15

1500

2500*800*1850
1500*700*570
We have been in the soyben oil processng field since 1990. We supply complete soya oil plant If you are interested in our soya oil mill, contact us in the following form to know more info.
Henan Kingman M&E Complete Plant Co., Ltd ©