Soybean Oil Manufacturing Process
KMEC is the expert of soybean oil processing. We offer state of the art soybean oil manufacturing process to all of our clients,We manufacture and export variety of oil processing equipment and complete soybean oil plant.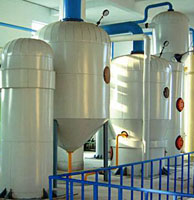 The soybean oil manufacturing process is a not a simple process. There are some necessary steps that you should follow. The main process of manufacturing soybeans into oil are as follows:
Preparation / cleaning of the soybean seed.
Extract oil from soybean by solvent.
Purification / refining of the extracted oil.
Winterizing and hydrogenation (optional)
Seed Preparation: Soybeans are firstly cleaned and dried, then de-hulled by cracking and separating the soybeans from the hulls. Magnets are somtimes used for separating any iron from the soybeans. The soybeans are adjusted for moisture content and heated to coagulate the soy proteins and make the extraction process much easier.
Soya Bean Seed Solvent Extraction: The prepared soya beans are cut into flakes and placed into percolation extractors and combined with a solvent. The hexane/soybean oil mix is separated from the flakes and transferred to evaporators where the oil and hexane are separated. The evaporated hexane is recovered and reused in future extraction processes, while the hexane free crude soybean oil is taken for further refining.
Soybean Oil Refining: The crude soybean oil contains many impurities that need to be removed. Oil insoluble materials are removed through filtration, while oil soluble materials are removed through degumming, neutralizing or bleaching. A stripping and/or deodorizing step completes the refining process.
Soybean Oil Modification: Hydrogenation and winterizing are sometimes used to alter the melting characteristics and improve the stability (for long term storage) of soybean oil.
Anytime you are interested in soybean oil manufacturing process we offered, don't hesitate to contact us, we are always ready to serve you!
Henan Kingman M&E Complete Plant Co., Ltd ©