Soybean Oil Mill
KMEC has constantly been upgrading its technology and research and development department has been coming out with innovations and new solutions to address our clients' requirement. We design, manufacture and supply quality soybean oil mill for various oil processing requirements. Made of high grade material, our manufactured soybean oil mill deliver flawless performance, is easy to use, is durable and requires negligible maintenance.
Soybean Oil Mill
YZS Series Soybean Oil Mill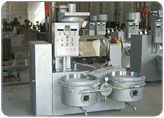 Though the capacity of YZS series soybean oil mills are not very big, it can realize multiable functions in processing vegetable oil. From puting raw material into the feeder of the soybean oil mill, the material will be transported automatically into press chamber. In press chamber, different oil materials can progress 1, 2, 3 or 4 stage pressing. From the smallest oil press YZS-68 with 1 stage pressing to YZS-130 with 4 stage pressing, we can do suitable choose for your needs.
The YZS series soybean oil mill is a kind of integrated oil mill which is designed to extract oil from different types of oilseeds. The raw material for soybean oil mill could be process all kinds of vegetable oil plants,such as rapeseeds, peanut, soybean, sesame are the most common materials. Apart from that, this kind of soybean oil mill can process coconut, plum kernel etc. For rare oil plants, it can be used as experimental equipments for screw expeller pressing.
YZS Series Soybean Oil Mill Main Parameters
MODEL

CAPACITY(KG/H)

POWER(KW)

NET WEIGHT(KG)

PACKING(MM)

YZS-80A

80-125

5.5

450

1860*670*1680
1060*590*600

YZS-100A

160-200

7.5

550

2270*750*1820
1220*590*600

YZS-120A

250

11

1000

2350*810*1870
1350*700*570

YZS-130A

330-420

15

1500

2500*800*1850
1500*700*570
Contact us now to know more info about our soybean oil mill. We are always at your service!
Henan Kingman M&E Complete Plant Co., Ltd ©