Sunflower Oil Processing Plant
Sunflower has a fresh and much superior flavor that is quite unique. Whereas the small needs can be satisfied through the machines and other related equipments that a person has at home, if the needs are much larger it becomes imperative that they be met through the sunflower oil processing plant. At the plant, the first process involves shelling of the sunflower seeds. This is followed by getting rid of all seeds that appear to be dark, or are shrunk, or have holes on their surfaces. As long as the seeds have been infected by insects and fungi, they should be discarded and not be used to extract oil in them.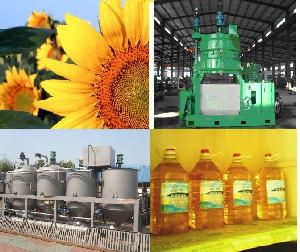 Weigh the seeds then spread them out without layering them more than three seeds deep. This is advisable so as to prevent a situation where the seeds dry unevenly. Preheat the oven to 300F and take the sunflower seeds you spread out on a baking tray, and insert it inside. Let the baking continue for not less than one hour. After this period of time has elapsed, weigh them again and see how much weight they have lost. The weight that is lost simply presents the loss of moisture content. Continue to dry the seeds until they weigh percent weight is between 10-15%.
Store the sunflower oil in a refrigerator after you have done all of the above. A
sunflower oil processing plant
is one where extraction is professionally carried out. This is where sunflower oil processing plant actually comes in quite handy. A plant has all the necessary pieces of equipment that are needed in order to extract sunflower oil of the best quality. It is only at the sunflower processing plant that the oil can be refined and all impurities removed. The sunflower oil plant has employees who are well gifted with everything they need to ensure that the oil is of the best quality.
Henan Kingman M&E Complete Plant Co., Ltd ©