Sunflower Seed Processing Machinery
KMEC is one of the greatest manufacturers and suppliers of sunflower seed processing machinery across the globe. We make use of the latest seed processing technology into our sunflower seed processing machinery, we offer good after sale services.
Sunflower Seed Processing Machinery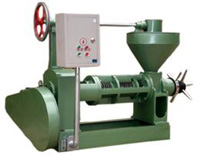 YZS-100 sunflower seed processing machinery is the best choice for small and medium-sized oil processing plants or individual households. This type of sunflower seed processing machinery is characterized by smooth shell, easy to operate and repair, wide suitability, reliable performance. It can also process other oilseeds like rapeseed, cotton seed, sesame, peanut, soybean seeds, jatropha, tung tree seed, neem seed, linseed and so on.
Main Technical Parameters
| | | | | |
| --- | --- | --- | --- | --- |
| Model | Capacity(MT/H) | Power(KW) | Net Weight(KG) | Dimension(MM) |
| YZS-100 | 4-5 | 3-phase, 7.5kW/11KW, 1440rpm | 480 | 1860 x 550 x 695 |
The fruit of the sunflower, a plant originally from Mexico and Peru. This magnificent plant is crowned by a large yellow flower that tops a long, thick, hairy stem. The yellow flowers (capitula) contain thousands of flowers forming a flat disc surrounded by yellow petals. These flowers produce the sunflower seeds. These seeds have a mild flavor slightly reminiscent of Jerusalem artichoke.
All of our seed processing machinery including sunflower seed processing machinery had been honored with the "National High Quality Well-known Goods", "National Quality Guaranteed Goods" for quite a lot of times. Feel free to contact us to know more info about our other equipment or complete plants. We are always ready to serve you!
Henan Kingman M&E Complete Plant Co., Ltd ©