YPHD Oilseed Extruder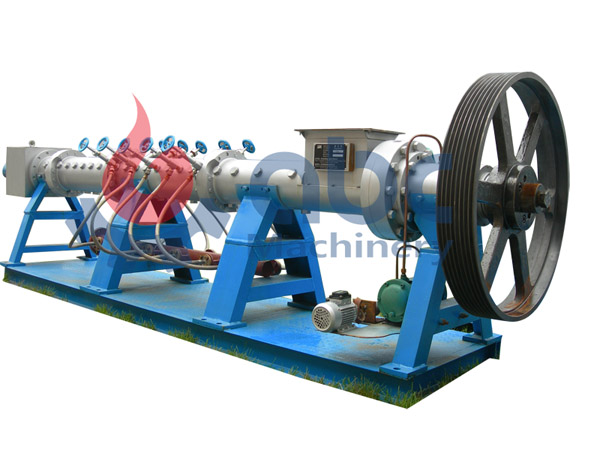 Extruding Principle
By squeezing, rubbing, shearing forces of pressing worms of unequal thread pitches in the extruding cage, the mechanial energy is converted into heat energy, forms certain pressure and temperature in the extruding cavity, from the outlet die head, the extruded material spray out and inflated .
Item
YPHD35-S
YPHD30-S
YPHD25-S
YPHD20-S
YPHD15-S
Capacity
63T/h
50T/h
34T/h
14.5T/h
6T/h
Screw Diameter
φ355mm
φ304mm
φ254mm
φ201mm
φ150mm
Speed of Mainshaft
290rpm
307rpm
278rpm
278rpm
278rpm
Power of Main Motor
250KW—6
200KW—6
160KW—6
75KW—6
35KW—6
Power of Hydraulic Power Unit
3KW—4
3KW—4
3KW—4
3KW—4
Weight
100000kg
6911kg
4660Kg
3800kg
2850kg
Dimensions
7169×2690×3521mm
6440×4225
×1800mm
5154×2845×1430mm
4686×2300×1260mm
2930×1200
×1000mm
Extruding Ratio
1:1.2~1:1.4
1:1.2~1:1.4
1:1.2~1:1.4
1:1.2~1:1.4
1:1.2~1:1.4
It can be used for the expansion of rice bran, soybean, maize, rice powder and feed, kinds of grain extruding ,etc. It's appliable for the production of oil factory, rice factory, soybean protein factory, feed factory, etc.
| | |
| --- | --- |
| Raw Materials | Soybean, Rice Bran, Rapeseed |
| Thickness of Flaking | 0.35~0.45mm |
| Moisture Content before Extruding | 10~11% |
| Moisture Content after Extruding | 12~13% |
| Discharge Temperature | 105~110℃ |
| Steam Pressure | 0.65~0.75Mpa |
| Steam Temperature | 174.5℃ |
Henan Kingman M&E Complete Plant Co., Ltd ©