advantages of soybean extruding
When processing soybean oil, extruding soybeans with
oil extruder machine
before expelling or solvent extraction has a lot of advantages that you can not think, below are some of the benefits of soybean extruding: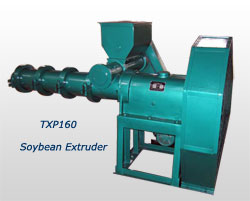 It will improve the degree of gelatinization of the starch, generating the modified starch, and it will with strong water absorption and bonding property.
Protein is not easy to loss when feeding, as protein and starch substrate combine with each other. It also improves the titer of the protein for the reason that the protein will only be released when the digestive enzyme decomposes protein by the animals.
The process of extruding denatures the protein, eliminates a great number of anti nutritional factors, and at the same time, it changes the tertiary structure of protein, shortens the hydrolysis time of the protein in the intestine and improves the digestibility.
For the Ruminant, the extruding process will generate rumen non-degradable protein, that is to say the rumen by-pass protein could prevent the animals from ammonia poisoning and improve the utilization rate of protein.
Extruding can release encapsulated fats of the soybean molecular and thus improves the energy value of the fat.
After the extruding process, the fat and starch or protein will combine together to generate kind of compound products, named lipoprotein or lipopolysaccharide, it reduces the FFA (Free fatty acid) content, and at the same time, deactivates the lipase, controls the degradation of oil and fats, and also reduces the rancidity of the oil components during storage and transportation period.
Reduce the water and crude fiber content, and make better palatability.
Improve the potency of low-quality raw materials, reduce cost of feeding materials.
Extruding will decrease the content of bacteria, muscardine and fungus in the raw material and increase the safety quality of feed. Gelatinized starch can stimulate the secretion of the lactic acid in the young animals' stomach, which can prevent the growing of the pathogenic microorganism.
Both the liquid and the solid oil and fats are with high viscosity, so it will definitely increases the mixing difficulty when putting them into the feed, especially for the small and medium feed mills and the feed mills that the pig farms set up themselves. And also it needs much time and hard to stir evenly. So use extruded soybeans with high oil and fats content instead of the oil material will improve the feed energy concentration, simplify the production process, and most importantly, it will save the cost.
Henan Kingman M&E Complete Plant Co., Ltd ©