coconut oil manufacturing process
There are always two ways to extract coconut oil, one is dry method and the other is wet method. Coconut oil manufacturing process with dry method starts with coconut preparation.Coconut oil produced from good quality copra is clear, low in fatty acid and has good coconut aroma. However crude coconut oil from bad quality copra is dark; turbid; high in free fatty acids (FFA), phosphatides and gums; has an unpleasant odour. To render this oil edible, it has to undergo a refining process. Refining consists of neutralization, bleaching and deodorizing
Coconut oil is an edible oil extracted from the kernel or meat of matured coconuts harvested from the coconut palm. Throughout the tropical world, it has provided the primary source of fat in the diets of millions of people for generations. It has various applications in food, medicine, and industry. Coconut oil is very heat-stable, which makes it suited to methods of cooking at high temperatures like frying.
Coconut Oil Manufacturing Process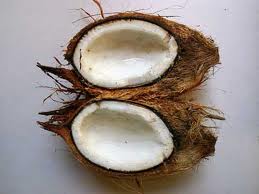 Coconut oil can be extracted through "dry" or "wet" processing method. Dry manufacturing method for the coconut oil manufacturing process requires the meat to be extracted from the shell and dried using fire, sunlight, or kilns to create copra.The copra is pressed or dissolved with solvents, producing the coconut oil and a high-protein, high-fiber mash. The mash is of poor quality for human consumption and is instead fed to ruminants; there is no process to extract the protein from the mash. The preparation and storage of copra often occurs in unhygienic conditions, which results in a poor-quality oil that requires refining before consumption. A considerable portion of the oil extracted from copra is lost due to spoilage, due to consumption by insects and rodents, and during the extraction process.
RBD stands for "refined, bleached, and deodorized." RBD oil is usually made from copra (dried coconut kernel). The dried copra is placed in a powerful hydraulic press with added heat, and the oil is extracted. This yields up practically all the oil present, amounting to more than 60% of the dry weight of the coconut. This "crude" coconut oil is not suitable for consumption because it contains contaminants and must be refined with further heating and filtering.
Contact us in the following form to get more infomation about coconut oil manufacturing process. We are always at your service!
Henan Kingman M&E Complete Plant Co., Ltd ©