commercial production plant for cottonseed oil
Do you think of set up a commercial production plant for cottonseed oil? If you want, here is the right place to strat.
First of all, you should know something about cotton seed oil. Cottonseed oil is a cooking oil extracted from the seeds of cotton plant of various species, mainly gossypium hirsutum and gossypium herbaceum. Cotton grown for oil extraction is one of he big four genetically modified crops grown around the world, next to soy, corn, and rapeseed (canola)...
Commercial Production Plant for Cottonseed Oil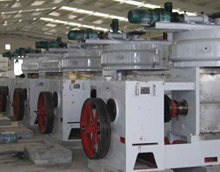 We offer professional commercial production plant for cottonseed oil which involves several processes like entry into the shaker room, where the cottonseeds are cleaned, the cleaned cotton is send through the grin sand where linter's are removed from the cotton seed. The next step is passing them through hullers, where the tough seed coats are removed. The seeds obtained from this section is crushed in oil expellers for partial recovery of oil. The residual oil contained in the press cake is recovered through solvent extraction process. The oil so obtained are washed and refined in order to obtain edible cottonseed oil. All these processes are seamlessly integrated for smooth operations.
Cottonseed oil still has a proportion of the edible oils market. The oil is very rich in unsaturated fatty acids, linoleic acid constituting about two-thirds of these. Compared to other crude vegetable oils, cottonseed oil is hard to refine. An alternative to this process is so-called miscella refining. This process refines the crude oil as early as the extraction stage and was developed specifically for the neutralization of cottonseed oil to remove gossypol (a particularly stubborn pigment) effectively.
Never hesitate to e-mail us as long as you feel interest in starting a commercial production plant for cottonseed oil. We are always reasy to give you the best service!
Henan Kingman M&E Complete Plant Co., Ltd ©