cooking oil production
Cooking oil is purified fat of plant origin, which is usually liquid at room temperature, cooking oil production, however,is really not a simple process as you can image.
some of the many different kinds of edible vegetable oils include: olive oil, palm oil, soybean oil, canola oil, pumpkin seed oil, corn oil, sunflower oil, safflower oil, peanut oil, grape seed oil, sesame oil, argan oil and rice bran oil. Many other kinds of vegetable oils are also used for cooking.
Cooking Oil Production Process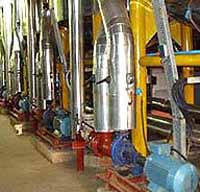 Cooking Oil Production - Cleaning and Grinding
The raw material oil seeds are passed over magnets to remove any trace metal before being dehulled, deskinned, or otherwise stripped of all extraneous material. Mechanized grooved rollers or hammer mills crush the material to the proper consistency. The meal is then heated to facilitate the extraction of the oil. While the procedure allows more oil to be pressed out, more impurities are also pressed out with the oil, and these must be removed before the oil can be deemed edible.
Cooking Oil Production - Pressing
Heated meal is then fed continuously into a screw oil press, which increases the pressure progressively as the meal passes through a slotted barrel. Pressure generally increases as the oil is squeezed out from the slots in the barrel, where it can be recovered.
Cooking Oil Production - Extracting Additional Oil with Solvents
Oilseeds like soybeans are usually not pressed at all before solvent extraction process, because they have relatively little oil, but most oil seeds with more oil are pressed and solvent-treated. After the initial oil has been recovered from the screw press, the oil cake remaining in the press is processed by solvent extraction to attain the maximum yield. A volatile hydrocarbon (most commonly hexane) dissolves the oil out of the oil cake, which is then recovered by distilling the light solvent out. In using a special machine, flakes of meal are sent through wedge-shaped cells of a cylindrical vessel. The solvent then passes through the matter to be collected at the bottom. The solvent percolates through the matter which is periodically dumped and replaced.
Cooking Oil Production - Oil Refining/strong>
The oil is next refined to remove color, odor, and bitterness. Refining consists of heating the oil to between 107 and 188 degrees Fahrenheit (40 and 85 degrees Celsius) and mixing an alkaline substance such as sodium hydroxide or sodium carbonate with it. Soap forms from the undesired fatty acids and the alkaline additive, and it is usually removed by centrifuge. The oil is further washed to remove traces of soap and then dried.
Write to us anytime you feel interest in cooking oil production. We are always ready to serve you.
Henan Kingman M&E Complete Plant Co., Ltd ©