corn germ oil expelling and refining line
The corn germ oil expelling and refining line can process various various oil bearing materials such as corn germ, palm kernel, rapeseed, copra and many other oil seeds. We can provide all the plants include oil preparement, oil expelling, oil refining and packing.
Corn Germ Oil Expelling

Corn germ oil expelling starts with corn germ, which is the embryo of a corn plant, distinct from the starchy nutrients in the endosperm. The oil content of the germ is about 85 percent of the total oil in the seed. Corn oil expelling is always using heated oil expeller machines which can yield as much as 50 percent of the germ oil. And the remaining oil is stripped from the "press cake" with the solvent hexane to extract extra oil out.
Corn Germ Oil Refining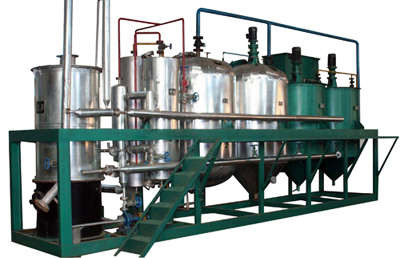 Corn germ oil refining is necessary for the reason that the crude oil extracted from the oil expeller machines stil contains a lot of impurities such as phospholipids, FFA, pigment, off-flavor and so on. Firstly to filte the rude oil with oil-dreg sieves, then use oil filter for clear the small dregs. The oil cleared is pump into oil tank or oil refiner.
Crude corn germ oil is filtered and then degummed. In steam degumming, steam is introduced at a volume of not more than 3 percent of the oil and is absorbed by lecithin or other gums, making them heavy enough to be removed by centrifugation. Corn oil is "bleached" with clay that has been "activated" with acid wash to remove any metals native to the clay. The clay is then removed from the oil by filtration.
Welcome to contact us to get more useful infomation about corn oil expelling and refining, We are always ready to serve you with great honest!
Henan Kingman M&E Complete Plant Co., Ltd ©