cottonseed oil extraction
Solvent extraction is the commonly used commercial technique to recover oil from oilseeds. Cottonseed oil extraction is a process to extract the cottonseed oil from cotton seeds by means of solvent. Solvent used being normal hexane–a petroleum bye product.
Cottonseed oil extraction start with seed preparation, cotton seeds will firstly be sent into the shaker room to be cleaned, the cleaned cotton is then sent through the grin sand where linter's are removed from the cotton seed. The next step is passing cotton seeds through hullers, where the tough seed coats are removed. The seeds obtained from this section is crushed in oil expeller presses for partial recovery of oil. The residual oil contained in the expeller cake is recovered through solvent extraction process. The oil so obtained are washed and refined in order to obtain edible cottonseed oil.

Cottonseed Oil Extraction Worshop View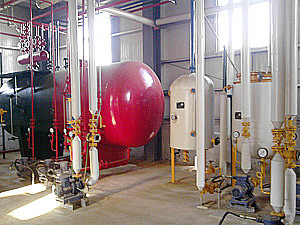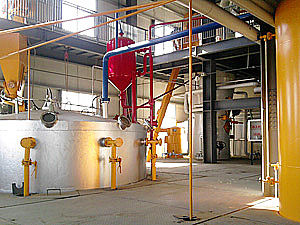 Cottonseed Oil Extraction Plant From A to Z
We provide customized solutions for cottonseed oil extraction plant from a to z. In order to maximise the efficiency of the vegetale oil plant,usually quite a lot of customers would like ask we KMEC to take the responsibility of the selection and / or supply of various items like structure & staging for different types of oil processing equipments, laboratory equipments, fire fighting systems, steam boilers, storage for oil and seeds, electricals, fire fighting equipments, water cooling systems and so on.
Cottonseed and Cottonseed Oil
Cottonseed is a rich source of oil and protein. Cottonseed oil has gained importance as heart healthy oil as it contains lots of un-saturates.
Cotton is a cash crop for more than 20 millionfarmers in developing countries of Asia and Africa. It is mainly cultivated to meet the basic requirement for cotton fabrics. Cottonseed is a valuable by-product of the cotton plant and for every kg of cotton fiber, 1.65 kg of cottonseed is produced (Rathore, 2007). Global cotton cultivation in 2009-10 yielded 23.3 million metric tons (MMT) of cotton and around 40 MMT of cottonseed (Cotton Incorporated, 2010, Aug. 13). China tops in production of cotton in the world, whereas India stands second (Shekhar, 2006).Cottonseed contains approximately 18-25% of oil and 20-25 % high quality protein.
Welcome to contact us anytime you feel interest in cottonseed oil extraction! We are always at your service!
Henan Kingman M&E Complete Plant Co., Ltd ©