edible oil making plant
KMEC's aim is to offer you access with our
edible oil making plant
to an affordable, efficient and environment-friendly technology for processing edible oil that helps you to achieve much greater extraction rates and puts you in control of your own marketing, quality, production and added value for your own. With many years' experience of manufacturing and exporting edible oil making machinery and other seed oil processing machinery all over the world, we are your trustable oil pressing machinery supplier from China. The quality of our edible oil making machinery is ensured by international market with favorable prices.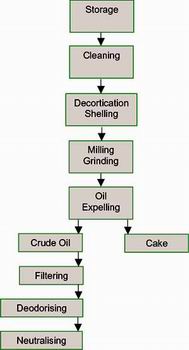 General process of edible oil making
General Process of Edible Oil Making
The
edible oil processing
industry involves the extraction and processing of oils and fats from vegetable sources. Vegetable oils and fats are principally used for human consumption. The oils and fats are extracted from a variety of fruits, seeds ,and nuts. The preparation of raw materials includes husking, cleaning , crushing and conditioning . The extraction processes are generally mechanical (boiling for fruits , pressing for seeds and nuts) or involve the use of solvent such as hexane. After boiling , the liquid oil is skimmed; after pressing ,the oil is filtered; and after solvent extraction , the crude oil is separated and the solvent is evaporated and recovered .Residues are conditioned (for example , dried) and are reprocessed to yield by-products such as animal feed. Crude oil refining includes degumming, neutralization, bleaching, deodorizaton and further refining.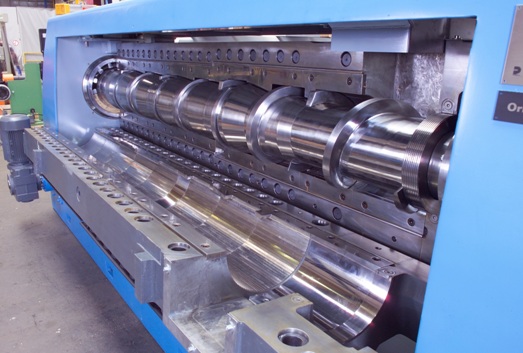 Edible oil making machinery of KMEC
General Process of Edible Oil Refining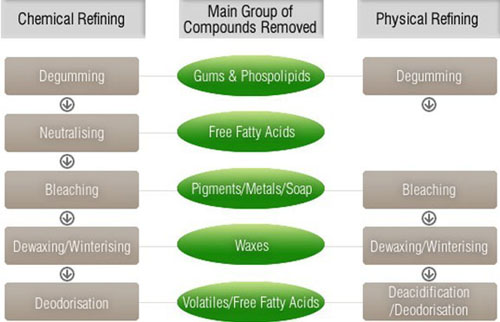 General Process of Edible Oil Refining


Refining:

Some oils undergo a refinement process in order to remove impurities, improve the color or texture, or stabilize the shelf life of the oil. The oil is reacted with a weak base solution to saponify the free fatty acids into soap. The oil is then centrifuged and washed with water until the pure oil remains. The oil may also be degummed to remove the sticky phospholipids, color pigments and odor lending portions.

Bleached:
Some lipids are bleached in order to improve the color and clarity of the oil. Bleaching is generally done by passing the oil through fuller's earth or clay and then filtering the oil.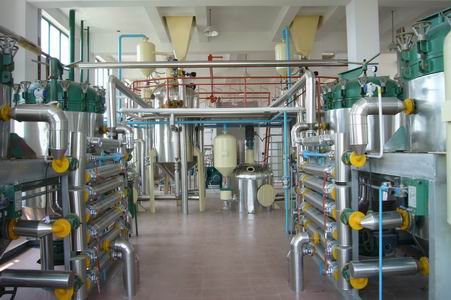 Edilble oil refining plant of KMEC
Deodorized:
Some lipids undergo a deodorization process in order to remove compounds that lend an unappealing or overpowering aroma to the oil. This is generally done by blowing high temperature steam through the oil to vaporize the aromatic components. This process is made more effective by heating the oil to high temperatures and performing this process under a vacuum to help remove all of the volatile odorous substances. Due to the high temperatures used, deodorization is clearly the most damaging process of refinement.

Get in touch with us anytime you feel interested in our edible oil making plant. We are always ready to offer you the best service!

Henan Kingman M&E Complete Plant Co., Ltd ©