fish oil refining
KMEC is the expert of oil fish oil refining. We have rich practical experience of manufacturing and exporting complete fish oil refining plants as well as a large selection of oil refining equipment for fish oil refining.
Fish oil is one of the best oils around the world which are very different from vegetable oil. It contains omega-3 fatty acids and has very good health-promoting effect. However, before fish oil can be processed into ready-to-eat fish oil capsules, the fish oil has to undergo a process of refining - usually we call it fish oil refining.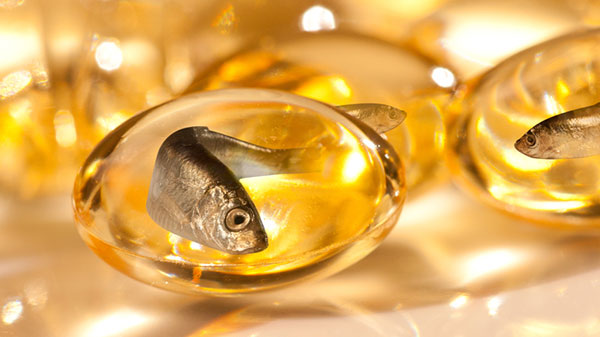 The Purpose of Fish Oil Refining
Normal vegetable or animal oil not through refining called gross oil, which are got through extraction, leaching, water solvent or smelting. Gross oil have many kinds of foreign matters, like silt residue: sand, cake residue; glue-soluble impurities like phospholipid, protein, oil-soluble impurities like free fatty acid, pigment, aflatoxin, gossypol ,moisture. Due to the above impurities, the oil is easy to rancidity, so poor quality and low use value. So, it's necessary to remove off these foreign matters according to their different properties and using requirements. So that's the purpose of oil refining, so as to fish oil refining.
Fish Oil Refining Process
Generally, there are 4 main steps in fish oil refining, they are neutralization, washing, bleaching and deodorization. After the above 4 steps process, we can get the final product oil.
Neutralization
: Use NaOH (Caustic soda) to reaction with the acid in fish oil to lower the acid in the oil.
Washing
: Mixing with hot water to process the de-gumming. Then the oil will be cleaner.
Bleaching
: Use pump take the oil into bleaching tank first. Then heating&mixing the fish oil about 30 mins. Then use the vacuum take the bleaching earth in to the bleaching tank. The bleaching earth will take off the impurities.
Deodorization
: Use the high vacuum to remove the peroxide value. Then only keep the nice smell.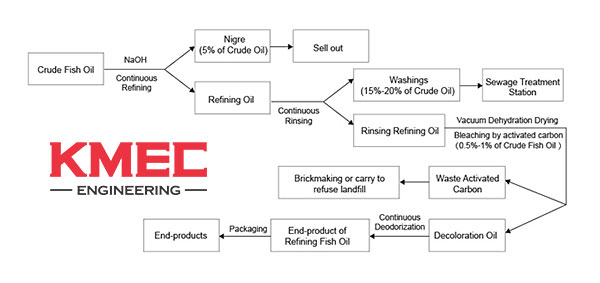 Factors Need to Attention in the Process of Fish Oil Refining
What causes acid value increased?
Fish oil in storage, the light, an enzyme, warm and microbes will prompt slow hydrolysis. It will produce free fatty acids. Acid value is smaller the oil quality is better, freshness and degree of refining is better.
Acid value is related of the raw materials, oil extraction and processing technology, oil storage, transportation methods and storage conditions etc.
For example: Fresh raw fish acid value is smaller is smaller than the mildew occurred fish oil.
Triglyceride lipase in the oil process step because of the function of heat or lipase decomposition. It will produce free fatty acids. Then increases the acid value.
When the oil is be stored, because of the moisture, temperature, light, lipase role of factors, It will be decomposed to free fatty acids. Lead to acid value of the oil increases, the storage stability decreases.
How to avoid and prevent?
So avoid to contact with light, heat, air, try sealed is an important methods of prevention.
Fish Oil Refining Plant
So far we have successfully designed and exported fish oil plants all over the world, here we will show some of the projects we served.
1TPD Seal Oil Refinery Plant in Namibia
It is a mini scale refining plant for seal oil and the daily capacity is 1 ton.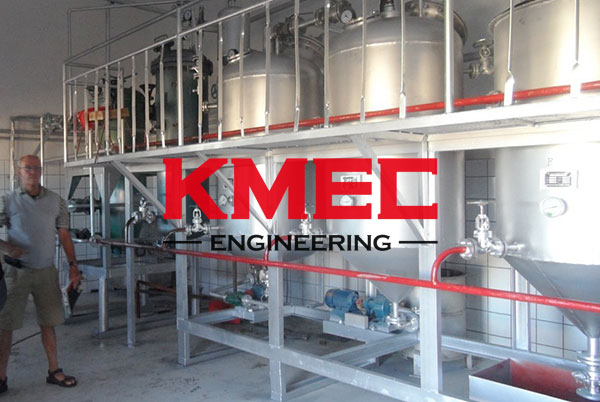 5TPD Fish Oil Refining Plant in Pakistan
This is a small scale refining plant for processing fish oil. The small line is located in Karachi, Pakistan, and the daily capacity is 5 ton. The main process is: De-gumming, neutralization, decoloration, deodorization.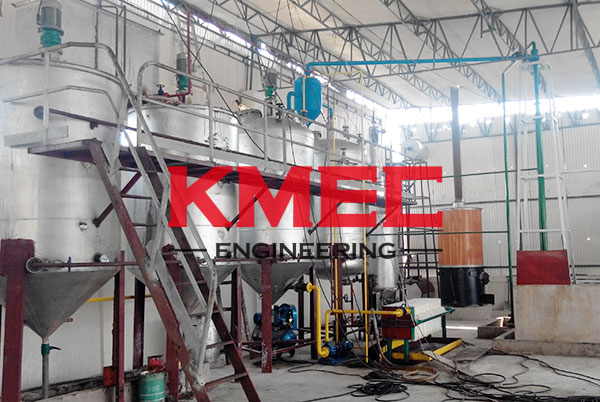 5TPD Sardine Fish Oil Refining Plant in Philippine
The daily capacity is 5 ton and the primary material is sardine fish. Customer buy this small plant for fish oil deep processing to get fish oil capsules.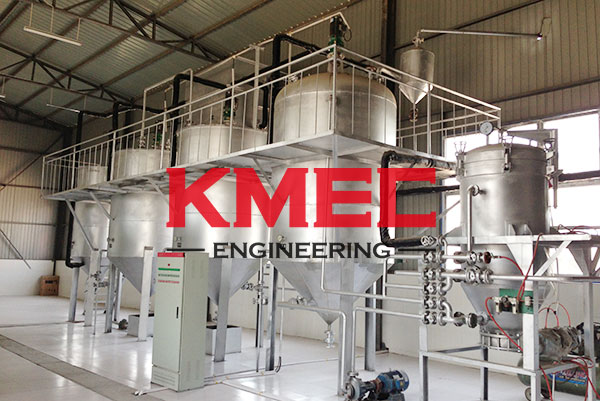 Fish Oil Benefits
Fish oil is oil derived from the tissues of oily fish. Fish oils contain the omega-3 fatty acids eicosapentaenoic acid (EPA) and docosahexaenoic acid (DHA), precursors of certain eicosanoids that are known to reduce inflammation in the body, and have other health benefits.
Fish oil is used for a wide range of conditions. It is most often used for conditions related to the heart and blood system. Some people use fish oil to lower blood pressure or triglyceride levels (fats related to cholesterol). Fish oil has also been tried for preventing heart disease or stroke. The scientific evidence suggests that fish oil really does lower high triglycerides, and it also seems to help prevent heart disease and stroke when taken in the recommended amounts. Ironically, taking too much fish oil can actually increase the risk of stroke.
Fish may have earned its reputation as "brain food" because some people eat fish to help with depression, psychosis, attention deficit-hyperactivity disorder (ADHD), Alzheimer's disease, and other thinking disorders.
Some people use fish oil for dry eyes, glaucoma, and age-related macular degeneration (AMD), a very common condition in older people that can lead to serious sight problems.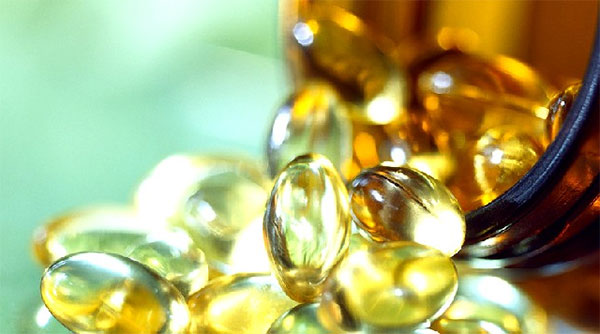 Anytime you feel interested in fish oil refining, write to us, we are always at your service!
Henan Kingman M&E Complete Plant Co., Ltd ©