groundnut oil extraction
As most oil seeds, the method of groundnut oil extraction usually including two ways, one is mechanical pressing, one is chemical pressing use solvent. Some seeds, especially groundnuts for example, are conditioned by heating to 80-90 using a seed scorcher. All oil-bearing materials need to have the correct moisture content to maximise the oil tield. By using small oil mill, oilseeds and nut are usually processed "cold"(additional heating).
Groundnut Oil Extraction Methods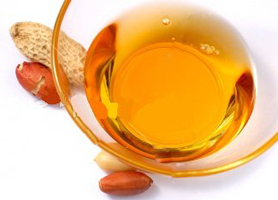 Besides mechanical method, the second way to extract oil for using chemical solvent to dissolve oil content contained in cake or direct oil seeds, only for lower oil seeds, for example soybean. Then oil is separated from solvent by vaporizing solvent out. In configuring the solvent extraction plant, pre-pressing may be involved in which case seeds are lightly pressed, and which leaves about 14% to 18% oil in the pressed cake. Solvent extraction will further process these cakes and leave less than 1% oil in the final cake. This method results in higher yields, more oil; Lower power consumption, lower wear & tear / maintenance and high extract efficiency. Thus it could be used as complement equipment to extract the oil remained in cake, which yields are extra profits. Certainly if the capacity is less than 50 tons, or it is high rate of output oil, this process could be saved.
We have enough experience and advanced machinery for making groundnut oil, which lead the technicity in this field. Contact us in the following form to get more info about groundnut oil extraction. We are always ready to serve you.
Henan Kingman M&E Complete Plant Co., Ltd ©