loop extractor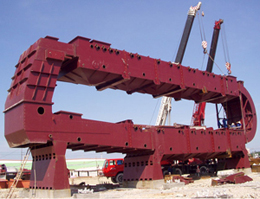 The loop extractor adopts a chain driving system. It is one potential extraction method available solvent extraction process. Made up of pre-extraction, extraction and draining sections. There is material turnover in the process of extraction to make the extraction uniform and thorough. Special self-cell solvent spraying ensures good extraction effect. Many years experience and many well proven projects running well.
The new loop-structure ensures less power consumption, less maintenance, and reduces noise. The rotation speed of Loop extractor can be adjusted automatically according to incoming oilseed's quantity to ensure that the bin level is stable. This will help to form micro negative-pressure in the extractor to prevent the escape of solvent gas.
Features of the Loop Extractor
The loop extractor is designed with a chain drive, frequency controlled motor speed, unique circular structure, low rotating speed, low power consumption. It runs smoothly and silently with low maintenance costs. An advanced miscella circulating schematic design decreases the need to input fresh solvent. The residual oil in dregs of rice is reduced, improving the miscella's concentration. Energy is saved by cutting down on evaporation. The material bed in the extractor is low and uses percolation leaching. To prevent dead spots in the leaching process, materials at the curved section will be turned. In cases of significant dregs in the miscella is high, the dregs are effectively disposed of before entering the evaporation system.
We accept enquiries in English, Español (Spanish), Русский язык (Russian), Français (French) and Arabic. Our professional team will reply to you within one business day. Please feel free to contact us to get more info about our loop extractor!
Henan Kingman M&E Complete Plant Co., Ltd ©