maize oil processing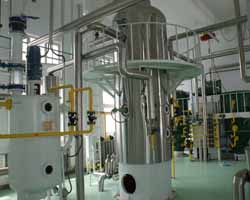 Usually, the maize oil processing starts with the corn germ. kernels are dehulled and then crushed with a grooved roller to break down the cell walls. The resultant cake is then "wet milled," steeped in water acidified with sulphur dioxide to separate the components of the seed.
The second step in the entire maize oil process is corn oil extraction. The maize oil in the hexane solution is heated to vaporize the volatile solvent, which is captured as a condensate and used again. Then the heat expelled and hexane extracted oils are combined as crude corn oil; the remaining cake is processed for livestock feed.
Crude maize oil is filtered and then degummed. Maize oil is "bleached" with clay that has been "activated" with acid wash to remove any metals native to the clay. As a result, the clay absorbs color pigments, residual soap products and metal ions from the maize oil. The clay is then removed from the oil by filtration.
If a partially hydrogenated product, such as margarine or shortening, is being produced at this point in the process, the heated oil is exposed to hydrogen gas under pressure.
We are one of the world leading companies in oil processing and enjoys good reputation across the world. We have rich and pratical experience in manufacturing and exporting a wide range of oil processing machinery. We also design complete maize oil processing plant. Don't hesitate to write to us anytime you are interested in maize oil processing. We are always at your service!
Henan Kingman M&E Complete Plant Co., Ltd ©