palm kernel crushing and refining oil mill
KMEC can always offer a range of professionally designed palm kernel crushing and refining oil mill within the range of 10 tonnes dry kernels per day (tpd) up to 80 tpd, or higher if required.
Our preferred system is for two stage oil expelling which yields lower oil losses in cake than single expeller systems. The palm kernel crushing oil mill is able to processing flexibility, and ease of upgrading at a later date.
Plam Kernel Refining Oil Mill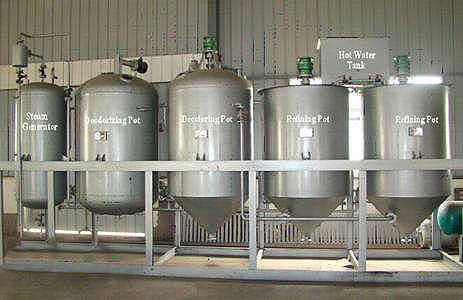 Palm and palm kernel oils consist many of glycerides and like other oils in their crude form from many consist of small and variable portions of non-glyceride components as well. The aim of palm kernel oil refining is therefore to convert the crude oil to quality edible oil by removing objectionable impurities to desired levels in th most efficient manner.
Generally speaking,the refining route of palm kernel oil is quite identical. There are two routes which can be taken to process crude oil into refined oil: chemical/alkali refining and physical refining.The methods differ basically in the way the free acid are removed from the oil.Chemical refining, which has a higher cost of refining and generally found in older refineries, utilizes an alkali to neutralize most of the faaty acids which are removed as soap. Physical refining, which eliminates the need for an effluent plant for the soap stock, involves subjecting the oil to steam distillation uder high temperature and vacuum for removal of the free faaty acids.

Welcome to contact us to get further info about palm kernel oil crushing and refining, we are always ready to help!
Henan Kingman M&E Complete Plant Co., Ltd ©