palm kernel oil refining plant
We are trusted manufacturer and supplier of various oil processing plants. We can offer professional complate palm kernel oil refining plant set with various capacities according to customers' needs. We can also supply other plants for a lot of more oil bearing materials such as peanuts, soya beans, cotton seed and so on.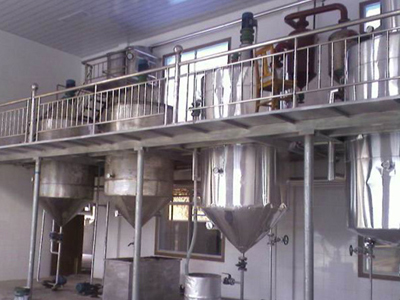 Physical Refining for Palm Kernel Oil
We usually choose physical refining method in our complete palm kernel oil refining plant. The physical palm kernel oil refining process consists of three main parts:
Dry degumming: In the dry degumming, the crude palm oil is mixed with food grade acid to remove the free fatty acids.
Bleaching: The degummed oil is mixed with the soil that is a vacuum level, where it is dried and de-aerated. The bleaching earth absorbs the main particles of color bodies as well as metal contamination and oxidizing materials in the oil.
Distillation / Deodorization:The bleached oil is first de-aerated and heated where any remaining air and volatile materials are removed. The oil then enters the deodorizer section where the main body of free fatty acids and other volatile odor and taste substances are removed from the oil. The oil leaving the deodorizer is cooled to storage temperature and then passed through one of two alternately working polishing filters.The product obtained is refined bleached and deodorized oil (RBDO). To a free flow fractionation process, the separation of the liquid phase from the solid phase is possible.
What is Palm Kernel Oil?
Palm kernel oil is an edible plant oil derived from the kernel of the oil palm Elaeis guineensis. It should not be confused with the other two edible oils derived from palm fruits: coconut oil, extracted from the kernel of the coconut, and palm oil, extracted from the pulp of the oil palm fruit.
Palm kernel oil is a white to yellowish oil of vegetable origin which is solid at normal temperatures and is obtained from the kernels of the oil palm (Elaeis guineensis). It is one of the best oils. Palm kernel oil is different from palm oil, which is obtained from the flesh of the fruit. Palm kernel oil is used in the production of vegetable oils, soaps and candles. Palm kernel oil, like other vegetable oils, can be used to create biodiesel for internal combustion engines. Palm is also used to make biodiesel, as either a simply-processed palm kernel oil mixed with petrodiesel, or processed through transesterification to create a palm kernel oil methyl ester blend.
Welcome to contact us any time you feel interest in begin a complete palm kernel oil refining plant set. We are always at your service1
Henan Kingman M&E Complete Plant Co., Ltd ©