pressure leaf filter
NYB series filter press is high efficiency pressure leaf filter that is widely used in chemical, petroleum, panting, foodstuff, pharmaceutical and many other industries. This type of filters have features of unique structure, compact volume, high filter efficiency, fineness of filtered liquor, no material wastage, without consumption of filter paper, filter cloth. It's only consuming small quantity of filter and it can be conveniently maintained, cleaned and operated at very low cost.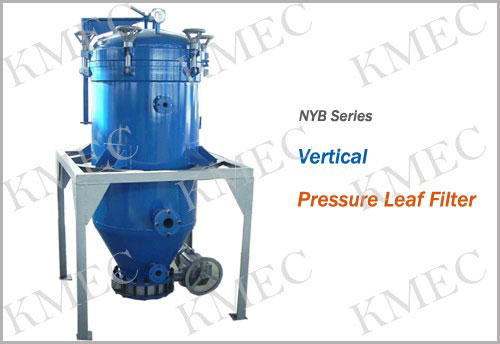 Applicable Scope
Oil industry : crude oil, bleached soil, hydrided oil, radonized oil, stearin, fattyacid, etc.
Petroleum chemical products: diesel oil, lubricating oil, paraffin wax, mineral oil , etc.
Beverage:beer, juice, wine milk, etc
Organic chemical products:various organic aid,alcohol, benzene aldehyde, etc.
Paint : resin , vanish dye lacquer . etc
Inorganic chemical products : bromine water , potassium cyanide . fluorite . etc ,
Foodstuff:gelatin vinegar,starch,syrup, sugar water,etc .
Pharmaceutical products:hydrogen peroxide solution,vitamin etc.
Mineral products:fine coal,cinder, etc.
Others: air, depuration of water, etc.
Application in the Oil Mill Industry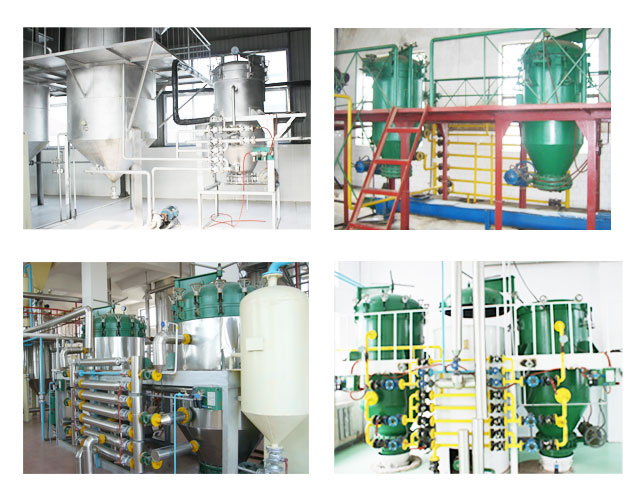 Technical Parameters
| | | | | | |
| --- | --- | --- | --- | --- | --- |
| Model | Filtering Area (㎡) | Filters the cake volume (L) | Capacity for Oil (T/h) | Crosses the filtering jar volume (L) | Main engine weight (Kg) |
| NYB-2 | 2 | 30 | 0.4-0.6 | 120 | 300 |
| NYB-4 | 4 | 60 | 05.-1.2 | 250 | 400 |
| NYB-7 | 7 | 105 | 1-1.8 | 420 | 600 |
| NYB-10 | 10 | 150 | 1.6-3 | 800 | 900 |
| NYB-12 | 12 | 240 | 2-4 | 1000 | 1100 |
| NYB-15 | 15 | 300 | 3-5 | 1300 | 1300 |
| NYB-20 | 20 | 400 | 4-6 | 1680 | 1700 |
Main Structure
The main body of the filter is made up of vessel, filter gauzes, lifting structure and automatic discharging device Filier gauzes are made by material of multilayer stainless steel which installed center liquid pipe and cleaned up conveniently.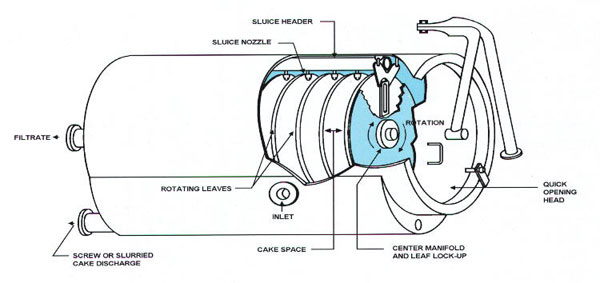 Working Principle
In the process of filtration, the unfiltered liquid with filter aid come into the body through transmission system(pump or other tools). After a stable filter cake formed on the filter gauze flakes, the filtrate are filtered through the micropores of filter cake.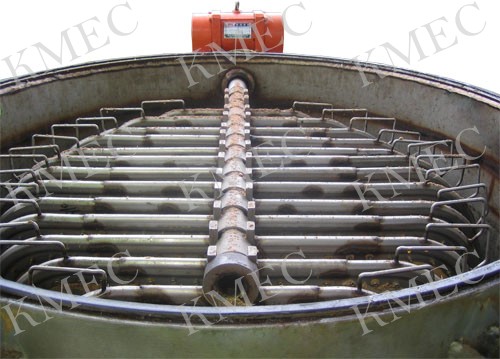 Product Benefits
No need of filter cloth and filter paper, greatly reduce the filtering cost;
All closed operation, environmental protection, no material losses;
Vibration slag off, greatly reduce labour intensity and realize comtinuous working;
Pneumatic valve discharge, greatly reduce workers labor intensity;
Filtering or dehydration with slag or activated carbon (clay) in the liquid instead of plate and frame filter press, it is the prefered device in the filtering industry.
Henan Kingman M&E Complete Plant Co., Ltd ©