sesame oil production line
Start a sesame oil production line to process sesame oil by yourself? Professional sesame oil processing as well as high quality seame oil production machine are necessary in order to process quality sesame oil. With years' experience in the fiel of oil processing, KMEC is your trusted manufacturer and supplier to get you started on your own sesame oil processing venture.
In the sesame oil production line, first of all, seed cleaning equipment is used to pretreat and clean sesame seeds to remove impurities, and then the clear seeds are pressed by professional seed processing machinery to get crude sesame oils. However, these oils should be extracted by solvent then be refined to get pure edible oils. If necessary, you'd better install an oil filling machine to fill and pack the oils.
Sesame Oil Production Machine
Below is a picture from one our customers, he has just tested the sesame oil production machine and very satisfied with our equipment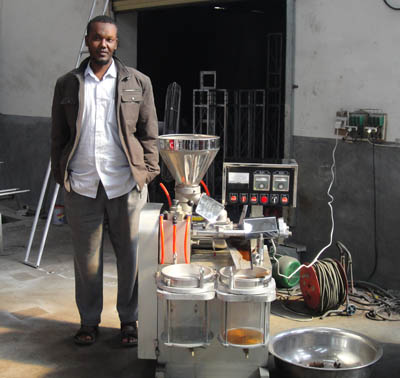 Sesame oil production machine is one of the most important oil processing equipment in complete sesame oil production line. YZS 30 oil press machine is a new type automatic oil press equipment. It is compact, light and easy to handle. This sesame oil production machine can automatically expel and filter the oil simultaneously, with a high rate of production and greater oil yield. All parts of the sesame oil making machine can be dismantled, installed, and maintained easily. Raw material quantities of 0.2-0.4kg are allowed to be fed into the oil expeller when the expeller machine is hot. Our sesame oil production machine is matched Chinese standard electricity situation: 220 Volts, 50Hz, single phase. If clients have special electricity requirements on this type of equipment, clients should pay the extra cost of electricity special require.
Contact us today to get further info about the sesame oil production line and sesame oil production machine, we are always at your service!
Henan Kingman M&E Complete Plant Co., Ltd ©