soybean oil refinery
Soybean oil refinery is a complicated process which aims to remove phospholipids, FFA, pigment, gums, waxes, off-flavor and other impurities from the oil.
Crude vegetable oil contains small amounts of naturally occurring materials such as proteinaceous material, free fatty acids, and phosphatides. Phosphatides are removed for lecithin recovery or to prepare the crude oil for export. The most common method of soybean oil refinery is by reacting it with an alkali solution which neutralizes the free fatty acids and reacts with the phosphatides. These reacted products and the proteinaceous materials are then removed by centrifuge. Following soybean oil refinery, the oil is washed with water to remove residual soap, caused by saponification of small amounts of the triglycerides (oil). Color-producing substances within an oil (i. e., carotenoids, chlorophyll) are removed by a bleaching process, which employs the use of adsorbents such as acid-activated clays. Volatile components are removed by deodorization, which uses steam injection under a high vacuum and temperature. The refined oil is then filtered and stored until used or transported.
Small Soybean Oil Refinery Factory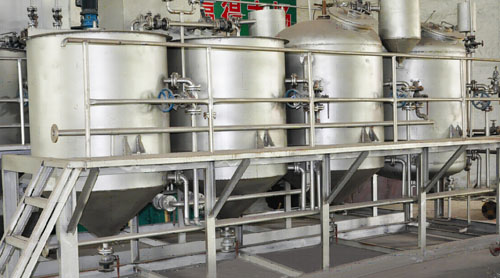 We supply oil pressing plant from 1TPD to 10 TPD, solvent extraction plant from 30TPD to 500TPD, and oil refining plants ranges from 1TPD to 5TPD, 5TPD to 500TPD. No matter you want to establish a small soybean oil refinery factory or a big scale oil refinery factory, we can all satisfy your needs! Contact us today to get further information!
Henan Kingman M&E Complete Plant Co., Ltd ©