sunflower seeds processing facility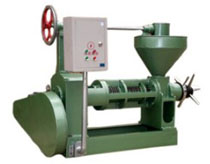 Producers generally press not only the seeds of sunflower by quality sunflower seeds processing facility in order to get the highest oil yield. Once the sunflower oil is extracted, the extracted oil will be sent for further refining and filtering process to get pure sunflower oil. Modern oil extraction techniques create a byproduct called pressed sunflower seed cake or meal, which is high in protein and can be for livestock feed.
The Model YZS-100 sunflower seeds processing facility is a better option for small and medium-sized sunflower seeds oil processing wokshops. We also supply oil press spare parts. Customers are always extreamely satisfied with our sunflower seeds processing facility.
Sunflower Seeds & Sunflower Oil
The sunflower seed is the fruit of the sunflower. The term "sunflower seed" is actually a misnomer when applied to the seed in its pericarp (hull). Botanically speaking, it is more properly referred to as an achene. When dehulled, the edible remainder is called the sunflower kernel.
Sunflower oil is the non-volatile oil expressed from sunflower (Helianthus annuus) seeds. It is one of the healthiest and popular oils in the world. It is often considered a premium oil due to its light color, mild flavour, low level of saturated fat and ability to withstand high cooking temperatures.
We offer premium sunflower seed processing facility as well as complete set of sunflower oil plant. Anytime you are interested with our facility, welcome to contact us in the fllowing form!b
Henan Kingman M&E Complete Plant Co., Ltd ©