ukraine rapeseed exports
Rapeseed exports from Ukraine, the world's third-biggest shipper and the largest supplier to the European Union, may decline this season as farmers harvest smaller crops, Hamburg-based
Oil World
said in a report.
Ukraine's rapeseed exports may total 1.98 million metric tons in the 2014-15 season that started July 1, 12 percent less than the prior year, the researcher said. Russia's shipments will rise to 250,000 tons from 176,000 tons. Ukraine's harvest will decline 13 percent to 2.15 million tons this season, while Russia's crop increases 7.7 percent to 1.5 million tons.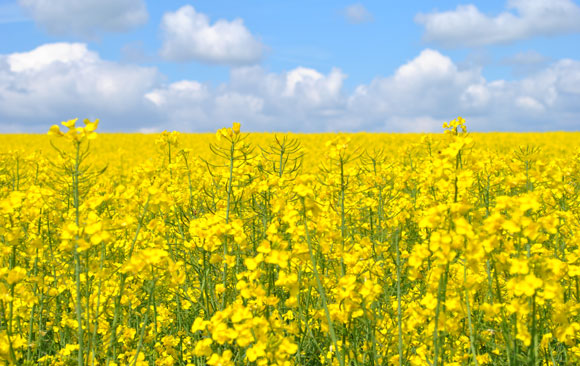 "Rapeseed harvesting is now in full swing in the key producing countries of the former Soviet Union, and we expect the combined crop to be close to last year's record high level," Oil World said. "However, exports will most probably suffer a more noticeable setback in July-June 2014-15 due to the reduced crop in Ukraine."
Ukraine and Russia are still expected to be "major exporters" of grain in the 2014-15 season, even amid political unrest that has embroiled the two countries, Oil World said. While combined planting of grains and oilseeds in Ukraine fell to 22.1 million hectares (54.6 million acres) this year from 22.7 million last year, total sowings were higher than in the three years prior to 2013, according to the report.
The political and economic crisis "worsened the financial situation of many Ukrainian farmers" since the beginning of the year, spurring many to increase planting of sunflowers and soybeans at the expense of other crops because the oilseeds are cheaper to grow, Oil World said. Recent rainfall in Ukraine delayed the beginning of the winter-crop harvest while improving growing conditions for summer varieties especially in southern and eastern areas, according to the report.
Russia's total grain and legume crop area may increase for a fourth straight year to 46.1 million hectares, up from 45.8 million last year, Oil World said. The country's combined grain production may be close to 100 million tons, compared with 92.4 million in 2013, according to the report.
Henan Kingman M&E Complete Plant Co., Ltd ©