vegetable oil refining plant
KMEC engaged in designing, installing and exporting of a variety range of vegetable oil processing plants since 1990. We offer state of the art technique of vegetable oil refining. Our vegetable oil refining plant is designed highly efficient and we also support customized services according to the specific requirements of our clients.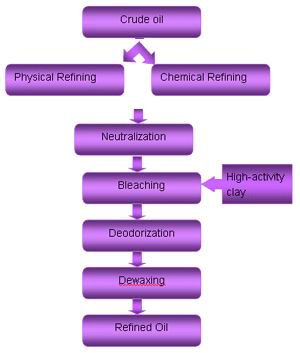 Crude oil is typically shipped for refining to establishments engaged in the production of edible vegetable oils, shortening, and margarine. Crude vegetable oils contain small amounts of naturally occurring materials such as proteinaceous material, free fatty acids, and phosphatides. Phosphatides are removed for lecithin recovery or to prepare the crude oil for export. The most common vegetable oil refining methodl is by reacting it with an alkali solution which neutralizes the free fatty acids and reacts with the phosphatides. These reacted products and the proteinaceous materials are then removed by centrifuge. The oil is washed with water to remove residual soap, caused by saponification of small amounts of the triglycerides (oil). Color-producing substances within an oil(i. e., carotenoids, chlorophyll) are removed by a bleaching process, which employs the use of adsorbents such as acid-activated clays. Volatile components are removed by deodorization, which uses steam injection under a high vacuum and temperature. The refined oil is then filtered and stored until used or transported.
Merits of Vegetable Oil Refining
Improve Vegetable and Edible Oil Quality
Reduce Bleaching Clay Usage
Conserve Nickel Catalyst
Continuous Process Control
Eliminate Human Interpretation Errors
Exact Dosage of Used Supplements
Timely Intervention at Process Changes
Reduced Product Loss
Higher Product Yields
We are always committed to provide the professional and advanced vegatble oil refining that are suitable for all kinds of oilseeds and for refining all kind of vegetable oils. Don't hesitate to contact us in the following form to learn more about our vegetable oil refining plant!
Henan Kingman M&E Complete Plant Co., Ltd ©