groundnut oil manufacturing process
Groundnut Oil Manufacturing Process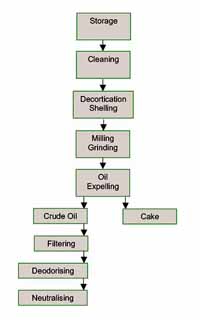 Groundnut oil manufacturing process is a complicated oil processing process which needs lots of manufacturing equipments and processing stages.The groundnuts are firstly prepared by being shelled and cleaned in certain seed cleaning equipments. Then the prepared groundnuts are sent to oil milling plant to be extracted by oil press machines.Oil production requires some type of press with which to extract the oil form the groundnuts and filtering equipment. There are quite a number of oil presses of different designes both small scale and big scale oil manufacturing, they are easy to operate and move, the price is also resonable. After extracted in the oil milling plant, the "crude groundnut oil" will then be sent to oil refinery plant to remove various impurities such as phospholipids, FFA, pigment, off-flavor and other impurities in the oil.
Groundnuts are a quality value crop which might be made along with bit of manufacturing but are really versatile and can be used in a wide array of items. The groundnut oil can be used as cooking oil, they can also be used as a shortening or as a base for confectioneries and they are often used to help make peanut butter. Groundnut oil contains high amounts of energy and fat-soluble vitamins (A, D, E, and K) and essential fatty acids. The oil content of the kernels is between 45% and 55%.
At any time you're thinking about begin a groundnut oil manufacturing unit or intend to get more information about our groundnut oil manufacturing process, don'thesitate to make contact with us and you will never regret doing so!
Henan Kingman M&E Complete Plant Co., Ltd ©