oil press machine
Today KMEC is the leading manufacturer and exporter of oil press machine as well as complete set of oil mill plants. We have been rendering invaluable service and making innovative contributions to the oil processing field. We have retained its unrivalled position in this industry over the years and enjoy a remarkable reputation for the quality and performance of our oil press machines.
YZS 130 Oil Press Machine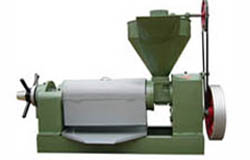 YZS130 screw oil press machine is our own development of new oil processing equipment for pressing various oil seeds. The superior technical and quality requirements of the oil presses are above the national standers. This oil press equipment is capable of processing rapeseed, jatrophat, soybean, sesame, cottonseed, linseed, sunflower, tung tree seed, camellia and etc. also the grainy seeds of the oil plants.
Advantages of the Oil Press Machine
This type of oil press machine adopts three squeeze, large output, higher oil rate, suitable for oil crush large users. It characterizes by the advanced rational design, easy to operate and repair, excellent in popularizing, and owns some national patents. The machine is with hight output oil rate, energy-saving, lower noise, etc. It's the product-spreading of the Agriculture Dept. And China patent product.
Main Parameters of Our Oil Press Machine
Raw Material

Capacity (T/24H)

Oil Production(per one hundred kilograms)

Dry Cake Residual Oil Rate (%)

Rapeseed

Hot Pressing

9-12

30-38

7.5-8

Cold Pressing

5-6

28-35

7.5-8

Peanuts

Hot Pressing

9-12

35-45

7

Cold Pressing

5-6

32-40

7

Soybean

Hot Ppressing

9-11

10-16

6.5-7

Cold Pressing

4.5-5.5

8-14

6.5-7

Sesame

Hot Pressing

9-12

44-47

6.5-7.5

Cottonseed

Cold Pressing

5-7

10-14

5.5-6.5
By producing oil press machines close to the market, we understand what our customer needs to gain a competitive edge. This ability to match the products to the market requirements allows us to produce innovative, high performance oil press machines at a reasonable price. We are always at your service.
Henan Kingman M&E Complete Plant Co., Ltd ©