how to build groundnut oil mill project
You can choose to open a
groundnut oil project
purposely for commercial or domestic reasons. You are within your rights if you opt to open such a project with the intention of meeting the needs of your family, or with the sole intention of making money out of this venture. Groundnut oil is the preferred choice for many people simply because it remains one of the most edible. This project does not need to be large scale. If you have the resources to purchase only the small size machinery for this purpose, you should pursue your dream by all means and start to enjoy the benefits.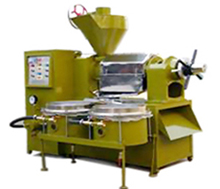 The nice thing about the small scale machinery and other pieces of equipment is seen in the fact that it is much easier to install, or to operate, or to commission. It will not cost you a lot of money, and you can set it anywhere in the house without taking up too much space. In a situation where you are inclined to hire labor for this project, one person would be adequate. Maintenance of the small piece of equipment is much cheaper and doesn't involve much compared with the larger-sized oil mill projects. The investment required for this type of machinery may be lower, but the output is still very high.
Safety of workers when using the groundnut oil mill project or machinery has been given priority. It is vital for the groundnut to be cleaned properly before extraction of oil can be carried out. The kernels carry between 45-55% of oil within them which need to be extracted using the latest technological tools. Crude groundnut oil will usually carry several impurities hence the need to clean it appropriately. Some of the pieces of machinery which all projects must have include professional seed cleaning equipment, and
oil pressing equipment.
A press is an important tool with which you can extract the oil you find in the groundnut. If you want to extract edible groundnut oil, you must hurry up so that the exercise is carried out before the oil is sent to the refinery for further procedures to remove all its impurities.
Henan Kingman M&E Complete Plant Co., Ltd ©