oil production factory
Want to set up an oil production factory to produce various edible and vegetale oils for commercial purpose? First of all you should find a trusted oil production factory manufacture and supplier.
Nowadays there are quite a number of companies that can help you build the oil production factory. You should pay great attention when you choose the manufacturer. KMEC is such a reputated company that can give you the best service. KMEC offers qulity oil mill machinery and at the same time supplies state of the art oil production technology.
Oil Production Factory
It is necessary for you to know some of the oil production knowledge before you start the oil production business. Below ia a picture of a oil production factory under building.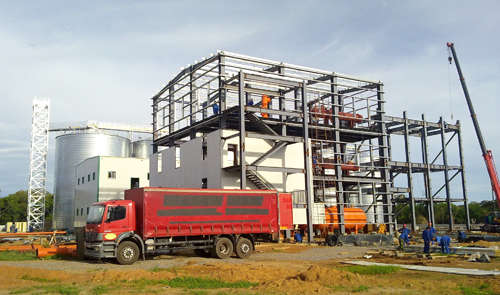 Vegetable oil seeds are conveyed from the process bins to the mill by means of belts or mass flow conveyors and bucket elevators. The cracking rolls crack each bean into four to six particles, which are passed through aspirators to remove the hulls (processed separately after the removal of residual bean chips). These hulls may be combined with the hulls from the grain cleaning step. Next, the cracked beans and bean chips are conveyed to the conditioning area, where they are put either into a rotary steam tubed device or into a stacked cooker and are heated to condition them.
Heated meal is then fed continuously into an oil press machine, which increases the pressure progressively as the meal passes through a slotted barrel. Pressure generally increases as the oil is squeezed out from the slots in the barrel, where it can be recovered.
Oilseeds like soybeans are usually not pressed at all before solvent extraction process, because they have relatively little oil, but most oil seeds with more oil are pressed and solvent-treated. After the initial oil has been recovered from the screw press, the oil cake remaining in the press is processed by solvent extraction to attain the maximum yield. A volatile hydrocarbon (most commonly hexane) dissolves the oil out of the oil cake, which is then recovered by distilling the light solvent out. In using a special machine, flakes of meal are sent through wedge-shaped cells of a cylindrical vessel. The solvent then passes through the matter to be collected at the bottom. The solvent percolates through the matter which is periodically dumped and replaced.
The oil is next refined to remove color, odor, and bitterness. Refining consists of heating the oil to between 107 and 188 degrees Fahrenheit (40 and 85 degrees Celsius) and mixing an alkaline substance such as sodium hydroxide or sodium carbonate with it. Soap forms from the undesired fatty acids and the alkaline additive, and it is usually removed by centrifuge. The oil is further washed to remove traces of soap and then dried.

Contact us anytime you feel interest in opening an oil production factory, we are always at your service!
Henan Kingman M&E Complete Plant Co., Ltd ©