sunflower oil press machine
This sunflower oil press machine has a wide range of applications, performs reliably, and is capable of pressing sunflower seed, rape seed, cotton seed, sesame, peanuts, soybeans, jatropha, linseed and other oil bearing materials. This oil press machine features a smooth shell, is easy to operate and repair. Model YZS-100 oil press machine is the best choice for small and medium-sized oil extrusion workshops or individual households. Spare parts are always supplied.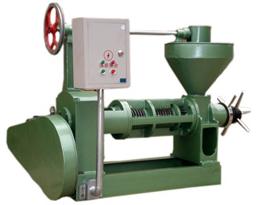 The sunflower oil press machine is in accordance with the standard JB/T9793.1-1999 in China. The quality is authorized by CE certificate and ISO9000. The durable performance and reasonable design of our press machine also accepted by all of our customers all the world. We have much long term cooperaiton with our clients for many years.
Sunflower Seeds & Sunflower Oil
The sunflower seed is the fruit of the sunflower (Helianthus annuus). The term "sunflower seed" is actually a misnomer when applied to the seed in its pericarp (hull). Botanically speaking, it is more properly referred to as an achene. When dehulled, the edible remainder is called the sunflower kernel.
Sunflower oil is the non-volatile oil expressed from sunflower (Helianthus annuus) seeds. Sunflower oil is commonly used in food as a frying oil, and in cosmetic formulations as an emollient.
If you are interested in our sunflower oil press machine, please feel free to contact us in the following form, we are always at your service.
Henan Kingman M&E Complete Plant Co., Ltd ©