palm kernel oil press
We offer quality palm kernel oil press that suitable for the squeezing vegetable oil from rapeseed, cotton seed, soybean, shelled peanut, flax seed, tung oil seed, sunflower seed and palm kernel, etc. The product has the character of small investment, high output, strong compatibility and high efficiency. We can offer small palm kernel oil press as well as large palm kernel oil press according to customers' need.
Small Palm Kernel Oil Press
Our palm kernel oil press is composed of feeder, gearbox, pressing cage, screw shaft ,and machine stand etc. It has better results to press palm kernels. It utilizes the screw shaft that is set-up with different styles of screws and rotates when machine is running to push the material into chamber. Then the palm kernel oil is separated out through the extrusion of pressing worm and pressing ring. It was very much uses in the small oil extraction plant and the rural enterprise.
Specifications of the Small Palm Kernel Oil Press
| | | | |
| --- | --- | --- | --- |
| Capacity (KG/H) | Power (KW) | Net Weight(KG) | Dimension(MM) |
| 375-500 | 15.5 | 700 | 2320*700*780 |
| 550-700 | 18.5 | 920 | 2020*700*780 |
Large Palm Kernel Oil Press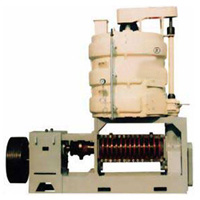 Our large palm kernel oil presses are with big capacity which mostly use in middle-large scale oil plant. They can be divided into two kinds: One is hot processing, which includes steam cooker and oil press. The steam cooker is used for oilseeds pretreatment before pressing. The other is the cold processing. The advantage of this kind of machine is lower temperature when press the seeds. It is about 80 degree, which can protect the nutrition element in the oil. These are oil presses with big capacity, high oil output, low oil residual, light processed fats color, good quality, rich nutrient.
Specifications of the Large Palm Kernel Oil Press
| | | | |
| --- | --- | --- | --- |
| Capacity (T/D) | Power (Kw) | Net Weight(KG) | Dimension(MM) |
| 40-60 | 50+11+4 | 9160 | 3740*1920*3843 |
Useful Information on Palm Kernel Oil
Palm kernel oil is an edible plant oil derived from the kernel of the oil palm Elaeis guineensis. It should not be confused with the other two edible oils derived from palm fruits: coconut oil, extracted from the kernel of the coconut, and palm oil, extracted from the pulp of the oil palm fruit.
Palm kernel oil, coconut oil, and palm oil are three of the few highly saturated vegetable fats. Palm kernel oil, which is semi-solid at room temperature, is more saturated than palm oil and comparable to coconut oil. Like all vegetable oils, these three palm-derived oils do not contain cholesterol (found in unrefined animal fats), although saturated fat intake increases both LDL and HDL cholesterol.
Palm kernel oil is a common cooking ingredient; its increasing use in the commercial food industry throughout the world is buoyed by its lower cost, the high oxidative stability (saturation) of the refined product when used for frying, and its lack of cholesterol and trans fatty acids, both viewed as being heart-healthy attributes.
E-mail us anytime if you are prone to purchase palm kernel oil press either small scale or big scale. We are always at your service!
Henan Kingman M&E Complete Plant Co., Ltd © 2011